Irish presidential election: Seán Gallagher to enter race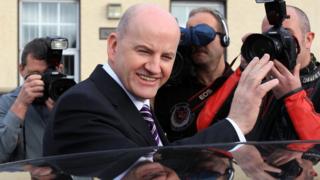 Businessman Seán Gallagher is to seek a nomination to run in the upcoming Irish presidential election.
He stood unsuccessfully in the last presidential election in 2011, coming second to incumbent Michael D Higgins.
There has been speculation for months now that the former Dragons' Den judge was considering entering the race.
On Wednesday, the Irish government announced that the election will be held on 26 October.
'Substantial damages'
In 2017, Irish national broadcaster RTÉ apologised to Mr Gallagher and paid him "substantial damages" in settlement over a tweet read out on a live televised debate during the 2011 presidential election campaign.
The tweet purported to be from an account linked to the Sinn Féin candidate in the election, the late Martin McGuinness.
The account was not the official McGuinness campaign account.
The deadline for candidates to get on the ballot paper for the 2018 race is 26 September.
In order to formally contest the election, they need the backing of either 20 members of the Irish parliament or four local authorities.
Mr Gallagher said he intends to seek a nomination from the local authorities.
Sinn Féin is due to announce its candidate for the race on 16 September.
A number of independent candidates have also expressed interest in challenging President Higgins, including the Irish businessman Gavin Duffy, and Irish senators Joan Freeman and Pádraig Ó Céidigh, as well as journalist Gemma O'Doherty.