Turkey and US trade new threats in detained pastor row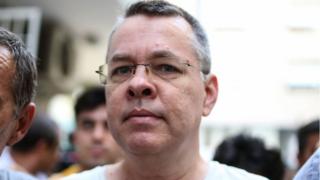 Turkey has warned it will retaliate if the US imposes further sanctions over a detained US pastor as the row between the two Nato allies intensifies.
Andrew Brunson has been held in Turkey for nearly two years over alleged links to political groups. On Friday, a court rejected another appeal to free him.
President Donald Trump said the US was not going "to take it sitting down".
Turkey's currency, the lira, has plummeted after the two nations imposed tariffs on one another's goods.
The impact of the new tariffs on imported goods has prompted widespread selling in other emerging markets, sparking fears of a global crisis.
What are the latest developments?
On Friday, Turkish Trade Minister Ruhsar Pekcan warned that Ankara would not succumb to new threats from Washington.
"We've already responded based on the World Trade Organization rules and will continue to do so," she was quoted as saying by Turkey's state-run Anadolu news agency.
Mrs Pekcan was speaking a day after US Treasury Secretary Steven Mnuchin said: "We have more that we are planning to do if they don't release [Mr Brunson] quickly."
Last week, the US doubled its tariffs on metal imports from Turkey.
Turkey responded by increasing tariffs on imports from the US including cars, alcoholic drinks and leaf tobacco - and the lira recovered slightly.
In a separate development on Friday, Mr Trump said that Turkey had "been a problem for a long time", referring to the charges against Mr Brunson as "phoney".
"They have not acted as a friend. We'll see what happens.
"They should have given him back a long time ago, and Turkey has in my opinion acted very, very badly, so we haven't seen the last of that. We are not going to take it sitting down, they can't take our people so we will see happens."
Why such tension between Nato allies?
Turkish President Recep Tayyip Erdogan has accused the US of trying to "bring Turkey to its knees".
Ankara accuses Mr Brunson - who operates a tiny evangelical church in Izmir - of having links to the outlawed Kurdistan Workers Party and the Gulenist movement, which Turkey blames for a failed coup two years ago.
Mr Brunson has denied charges of espionage, but faces up to 35 years in jail if found guilty.
The US insists the pastor, a long-time Turkish resident, is "a victim of unfair and unjust detention".
Mr Trump described him as "our wonderful Christian Pastor, who I must now ask to represent our Country as a great patriot hostage".
The influential Protestant evangelical church in the US is a major support base for Mr Trump.
Mr Erdogan is angry that the US has not taken more action against the Gulenist movement and what he said was a failure "to unequivocally condemn" the 2016 coup attempt. The US has refused to extradite Fethullah Gulen, who lives in Pennsylvania.
US support for Kurdish rebel groups fighting Islamic State fighters in northern Syria is another major difficulty, given Turkey's battle against a Kurdish insurgency in its own country.
Mr Erdogan earlier wrote in the New York Times that unless the US changed course, Turkey would look for new friends and allies.
Russia's Foreign Minister Sergei Lavrov visited Ankara on Tuesday, branding the US sanctions "illegitimate".
---
Prodding a hornet's nest
Analysis by Mark Lowen, BBC Turkey correspondent
Any optimism that the most serious row between two Nato allies for decades might ease has been blown out of the water.
There is a fear that the lira will tumble again, prompt more speculation that Turkey may need a loan from the International Monetary Fund, which it has so far ruled out.
Every move between Ankara and Washington at the moment is like prodding a hornet's nest.
But it's the Turkish economy that could be stung worst.
---