Donegal firm sorry for not commenting on crumbling houses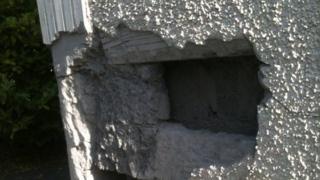 A County Donegal masonry supplier has apologised for not speaking out sooner about houses that have been built with defective blocks.
Houses across counties Donegal and Mayo have been crumbling over the years because of blocks containing high levels of the mineral Mica.
Mica absorbs water which can lead to walls cracking. Hundreds of people have been campaigning for answers.
An expert panel was set up in 2016 to investigate the problems.
Sobering stories
Donegal business, Cassidy Brothers, said they "fully recognise the genuine hardships suffered by people in Donegal".
A spokesperson said: "We have listened intently to the sobering stories of families who have had to endure the stress of deterioration in their homes through no fault of their own.
"We have sincere sympathy for those whose properties have been affected.
"Cassidy Brothers was north Donegal's largest masonry block supplier and we regret that our silence on this matter to date may have caused further distress.
"We apologise for not offering comment sooner due to constraints imposed as a result of a legal action. However, we feel now that there is a greater importance to be placed on acknowledging the torment of the people affected."
The company also said it supports homeowners in their calls for the implementation of an appropriate government remediation scheme as soon as possible.
A number of suppliers were used in the building of the houses in Donegal and Mayo.
A spokesperson for Cassidy Brothers said investigations have confirmed that Cassidy Brothers' masonry blocks, tested at point of manufacture, have at all times, past and present, complied with all relevant government standards, regulations and specifications.
'Satisfactory resolution'
A spokesperson for the Republic of Ireland's Department of Housing said they published a report in 2017 and made eight recommendations, which they are now actively working on with a range of parties involved.
"The minister for housing has been to Donegal twice, in 2017 and 2018, to talk to affected homeowners," they said.
"The minister is currently considering what further action can be taken to help all the parties involved reach a satisfactory resolution to the problem."
The Mica Action Group told BBC News NI that they welcome the statement from Cassidy Brothers.
"However, we would like to take some time to review this very detailed statement and with input from our members will provide a response in due course."