Irish presidential election: Sinn Féin to open nominations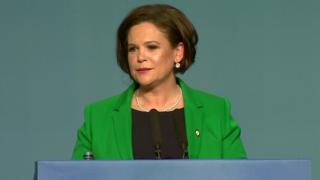 Sinn Féin opens its nomination process later for candidates who wish to contest the Irish presidential election.
Incumbent Michael D Higgins, who has been president since 2011, has the support of several political parties.
But Sinn Féin has already said it will put forward a candidate for the election. It is only the second time ever that a sitting Irish president will have to face a challenger.
Nominations will close on 10 September.
President Higgins has the backing of the leading government party Fine Gael, the main opposition party Fianna Fáil and the Irish Labour Party.
The 77-year-old former trade unionist was elected in 2011 for a seven-year term.
But last month, Sinn Féin leader Mary Lou McDonald said there was an "an appetite for political and social change" in the Republic of Ireland.
The party appointed a presidential election committee to oversee the selection process, led by David Cullinane, who sits in the Irish Parliament.
It will formally select its candidate at a meeting of its ard comhairle (high council) on 16 September, shortly after internal nominations close on 10 September.
There has been speculation that Sinn Féin would opt to select a female candidate this time around, while Irish national broadcaster RTÉ reported Belfast solicitor and former Westminster candidate John Finucane was also a likely contender.
A number of independent candidates have also expressed interest in challenging President Higgins, including the Irish businessman Gavin Duffy, and Irish senators Joan Freeman and Pádraig Ó Céidigh and most recently, journalist Gemma O'Doherty.
In order to formally contest the election, they need the backing of either 20 members of the Irish parliament or four local authorities.
The election is likely to take place on 26 October.