Russia jails 'Grand Theft Auto' killers who ambushed drivers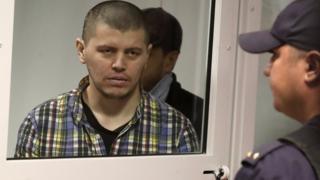 Four gunmen who robbed and killed 17 drivers on motorways around Moscow have been jailed for life.
Russian media nicknamed the killers - Central Asian migrants - the "Grand Theft Auto" gang, after a popular computer game mimicking gang violence.
In the night attacks spikes were scattered on roads, forcing drivers to stop and get out. The gang then shot them and stole their belongings.
Four other gang members died last year while trying to flee from custody.
On 1 August last year they overpowered two guards escorting them in a lift, and grabbed their guns, but the guards managed to alert colleagues who opened fire when the lift doors opened.
Three died on the spot, and a fourth in hospital 11 days later. One survived and was among the gang members sentenced on Thursday.
The motorway ambushes took place in and around Moscow and in Kaluga region, southwest of the capital, in 2012-2014. Besides the four jailed for life, a fifth was jailed for 20 years.
The first arrests took place in November 2014, when the suspected gang leader from Uzbekistan, Ibaydullo Subkhanov, was traced to Udelnaya village in Ramensky district south-east of Moscow. Police killed him in an exchange of fire.
Nine gang members were arrested in subsequent days. But several remain at large.
The violent video game Grand Theft Auto sets players challenges based on gangland crime - by successfully completing missions they climb up the criminal hierarchy.
Despite some media reports linking the gang to jihadists abroad, Russian investigators believe that they were intent only on enriching themselves.