Ukrainian hunger striker Sentsov 'near end' in Russian jail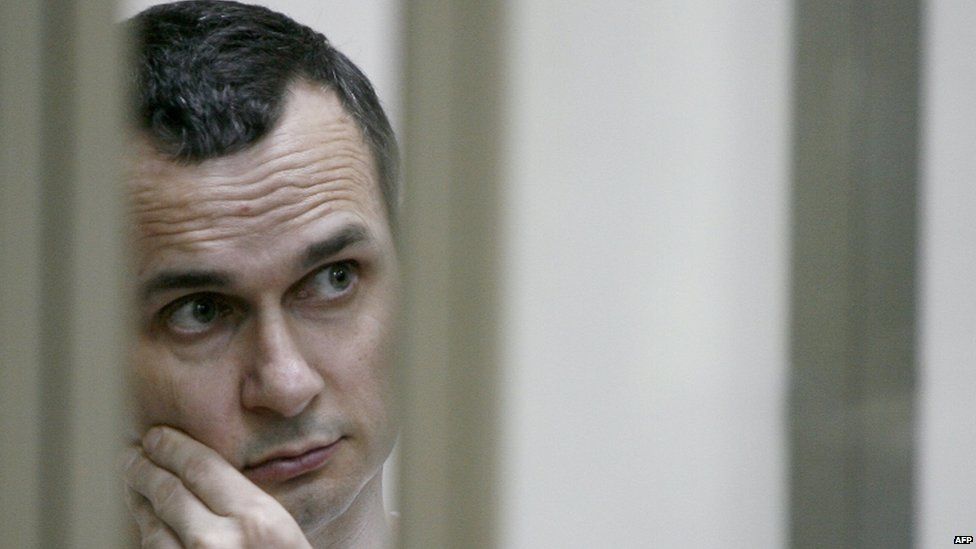 A Ukrainian film-maker on hunger strike in a remote Russian jail is in a "catastrophically bad" state, one of his cousins says.
Oleg Sentsov, 42, went on hunger strike on 14 May to press Russia to free 64 jailed Ukrainians whom he calls political prisoners.
On Facebook his cousin Natalya Kaplan quoted a letter from Sentsov. She wrote (in Russian): "He can hardly stand up. He wrote that the end is near."
Russia jailed him on terror charges.
Ms Denisova quoted the Russian ombudswoman as saying that Oleg Sentsov was "active, watches TV, reads books, writes from time to time", and that his condition was "satisfactory".
Sentsov was found guilty of plotting terrorist acts, including arson attacks, in Crimea after Russia annexed the Ukrainian peninsula in March 2014.
In August 2015 a military court in Rostov-on-Don, southern Russia, sentenced him to 20 years in jail, and he is now being held in Labytnangi, a small town in Russia's Arctic north.
There is a high-profile campaign in Ukraine demanding his release. He is best known for his 2011 film Gamer.
His lawyer Dmitry Dinze visited Sentsov on Tuesday and later said his client had lost 30kg (66lb) in weight and his heart rate had slowed.
During the trial, Sentsov denied the Russian charges, saying that "a court of occupiers cannot be just".
He said members of Russia's Federal Security Service (FSB) had beaten him up to extract a confession.
Prosecutors say he was involved in two attempted arson attacks in the city of Simferopol, ordered by extremist Ukrainian group Right Sector.
The Ukrainian government says he is being punished for being a Crimea-based pro-Ukrainian activist.
Russia's annexation of Crimea and its support for rebels in eastern Ukraine led to a series of sanctions imposed by Western nations against Moscow.
Ukrainians have been staging protests near Russian embassies around the world, demanding the release of Sentsov and other Ukrainian prisoners in Russia.