Julian Assange: UK and Ecuador in talks on Wikileaks founder's fate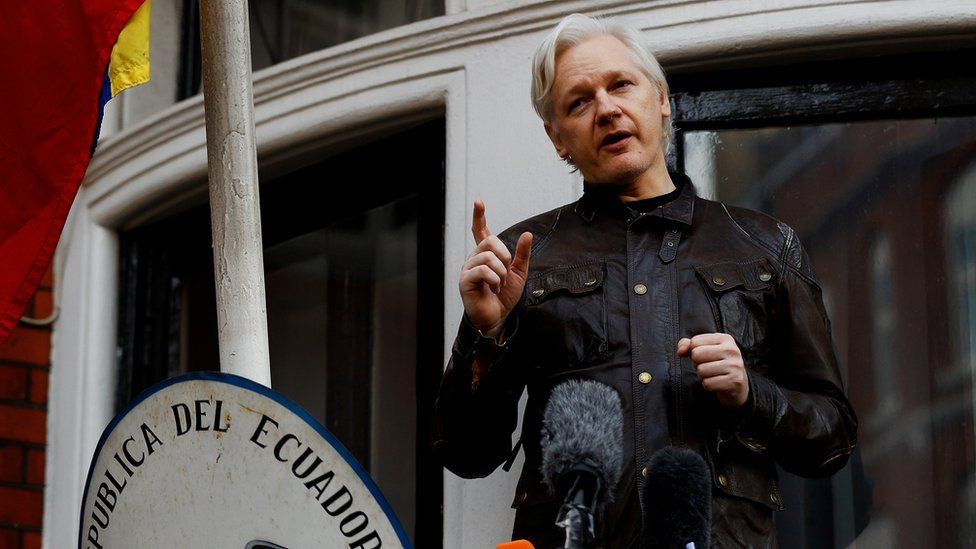 The UK and Ecuador are holding ongoing talks over the fate of Wikileaks founder Julian Assange, the British government has confirmed.
Mr Assange, 47, has been living in Ecuador's London embassy since 2012 when he was granted political asylum.
Ecuador's President Lenin Moreno said on Friday that he was never "in favour" of Mr Assange's activities, and that both sides were in permanent contact.
Mr Moreno has previously referred to Mr Assange as a "stone in our shoe".
The Ecuadorean president was in London this week for a global disabilities summit, but a UK government spokesperson said Mr Assange was not discussed during his visit.
Mr Moreno confirmed the accuracy of the Sunday Times article on Friday, at an event in Madrid.
Any eviction of Mr Assange from the embassy must be carried out properly through dialogue, he said.
The Australian will be arrested by UK police if he leaves the embassy for breaching bail conditions.
Wikileaks made global headlines in April 2010 when it released footage showing US soldiers shooting dead 18 civilians from a helicopter in Iraq.
Timeline of the Julian Assange case
August 2010 - Sweden issues an arrest warrant for Mr Assange on allegations of rape and molestation
December 2010 - Mr Assange is arrested in London and bailed at the second attempt
May 2012 - The UK's Supreme Court rules he should be extradited to Sweden to face questioning over the allegations
June 2012 - Mr Assange enters the Ecuadorean embassy in London, where he is later granted asylum
February 2016 - A UN panel rules that Mr Assange has been "arbitrarily detained" by UK and Swedish authorities since 2010
May 2017 - Sweden drops its rape investigation into Julian Assange
February 2018 - UK court upholds Mr Assange's arrest warrant for breaching bail conditions
The British government is said to be increasingly concerned about Mr Assange's welfare.
"It is our wish that this is brought to an end, and we would like to make the assurance that if he were to step out of the embassy, he would be treated humanely and properly," UK Foreign Office minister Alan Duncan told parliament last month.
"The first priority would be to look after his health, which we think is deteriorating."