Ozil meets Erdogan and other controversial sporting photo ops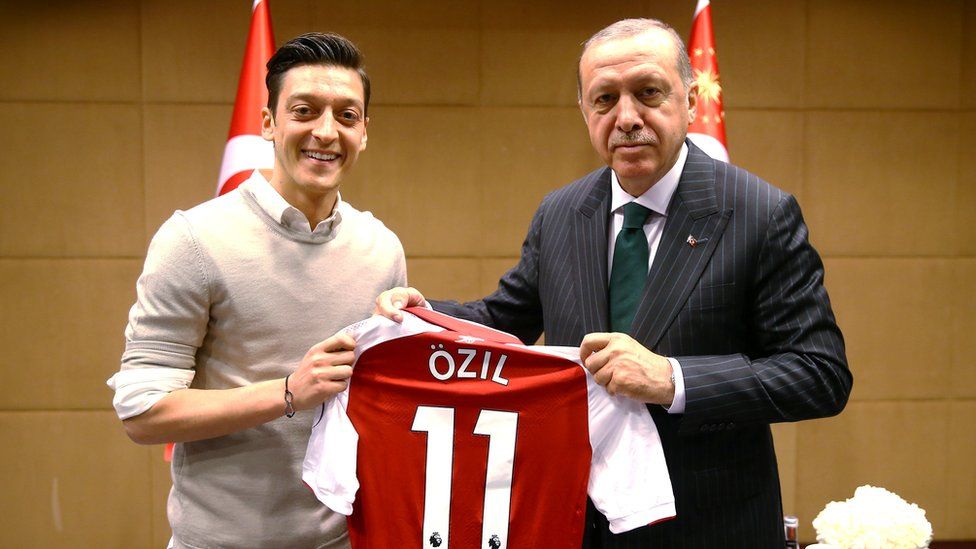 Posing for the camera is an everyday occurrence for most sports stars, but there are times when a photo opportunity can quickly lead to criticism and controversy.
Take German footballer Mesut Ozil, who quit the international team following a backlash over his photograph with Turkish President Recep Tayyip Erdogan.
Ozil is of Turkish origin, and met the country's leader in May to "respect the highest office of my family's country".
But the image led some to question his loyalty to German democratic values.
Mr Erdogan's party has cracked down on opponents and he has purged the military, police and judiciary.
Ozil's critics included the German Football Federation (DFB) which said "football and the DFB defend values which are not sufficiently respected by Mr Erdogan".
The controversy raised questions about the significance of sportspeople meeting politicians, and whether a smiling photograph can be considered an endorsement.
But it is by no means the first incident of this kind.
Mohamed Salah and Ramzan Kadyrov
At first glance it appears to be an ordinary handshake, but this image led to accusations that Egypt and Liverpool player Mohamed Salah was being used for political propaganda.
He was photographed meeting the controversial leader of Chechnya, Ramzan Kadyrov, who has been accused of a string of human rights abuses.
The pair met last month in the Chechen capital Grozny, where the Egyptian team had based its World Cup training camp.
Human rights groups criticised world football body Fifa for involving the Russian republic in the tournament and condemned the photograph.
"Ramzan Kadyrov was always going to see Mo Salah as a walking photo opportunity," Amnesty International's Allan Hogarth said at the time.
"During Kadyrov's authoritarian rule in Chechnya there have been a stream of reports of enforced disappearance, of detainees being tortured and even extrajudicial executions."
Dennis Rodman and Kim Jong-un
There are unlikely friendships, and then there is North Korean leader Kim Jong-un and ex-basketball star Dennis Rodman's friendship.
Rodman made his first trip to North Korea in 2013, when Vice Media arranged for his team the Harlem Globetrotters to have an exhibition match there.
He has since made several trips to the country and met Kim Jong-un, who is known to be a big basketball fan, on multiple occasions.
The country has been known to conduct public executions, send people to brutal labour camps, and spy on its citizens using a vast surveillance network.
"No-one's ever seen the [human right's abuses], no one's ever seen it on TV, it's all hearsay," Rodman told NBC's Today programme earlier this year.
Conor McGregor and Vladimir Putin
Conor McGregor is arguably the most high-profile mixed martial arts fighter in the world.
He is so well-known, in fact, that Russian President Vladimir Putin apparently invited him to the World Cup Final in Moscow as a special guest.
"This man is one of the greatest leaders of our time," he wrote. "Today was an honour for me Mr Putin."
But his praise for a man who is often criticised over Russia's human rights record was met with a fierce backlash.
"A great fighter, a poor judge of character," one Twitter user wrote. "Research the history," another said.
Love you Conor but research the history

— Jen Dotson (@sourmixedwkush) July 16, 2018
And there goes my support for you. A great fighter, a poor judge of character.

— Stevie Williams (@stevie1666) July 16, 2018
René Higuita and Rodrigo Londoño (Timochenko)
Former Colombia goalkeeper René "El Loco" Higuita is best known for inventing the "scorpion kick" he used to make a save against England at Wembley in 1995.
But he found himself in hot water in 2016 after being pictured alongside the leader of the demobilised Farc rebel group.
More than 260,000 people were killed in more than five decades of armed conflict between the Farc and other rebels, government forces and right-wing paramilitaries.
This made the image, in which Higuita can be seen raising the arm of the then Farc leader Rodrigo Londoño, particularly sensitive.
"I have met military leaders, paramilitary leaders and guerrilla leaders, and they are all Colombians, and I have known their hearts," Higuita said at the time.