Liam Miller: GAA criticised for refusing Páirc Uí Chaoimh benefit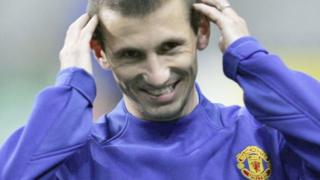 The Gaelic Athletic Association (GAA) has been criticised for refusing to allow a testimonial match for former Republic of Ireland star Liam Miller.
The former Celtic, Manchester United, Cork City and Ireland midfielder died of cancer in February aged 36.
A benefit match for the Cork man was hoped to be played at the 45,000 capacity Páirc Uí Chaoimh stadium.
But the GAA says its rules prohibit games outside of its control in its stadia and grounds.
Instead, the match is due to be played at Turner's Cross football stadium in Cork, which has a capacity of 7,500, on 25 September.
In a statement, the GAA said the "Cork County Committee and Central Council have no discretion in this matter".
"Only a change at Annual Congress can alter this situation. Congress takes place in February each year," it said.
The association is offering to provide hospitality facilities at the venue free to assist fundraising efforts for the Liam Miller Tribute Match.
Ex-Republic of Ireland player Roy Keane will manage a Manchester United Legends team against a combined Celtic/Ireland side for the testimonial game.
"Liam was 36 with a young family," he said.
"Unfortunately in sport we all get obsessed about winning and losing, contracts etc but the bottom line is your health is the most important thing."
Former Ireland players Robbie Keane and Damian Duff are also expected to be involved.
Soccer is effectively barred from GAA stadiums as it is not one of the organisation's own field sports.
Páirc Uí Chaoimh has been recently renovated at a cost of around €80m (£72m), about €30m (£27m) of that came from state funding.
The GAA said it sought legal advice around funding received towards the redevelopment of Páirc Uí Chaoimh and believes it is compliant with the terms and conditions laid down in September 2016.
What the GAA rules say:
The GAA rule book states that all property belonging to the association "shall be used only for the purpose of or in connection with the playing of the games controlled by the Association, and for such other purposes not in conflict with the aims and objects of the Association, that may be sanctioned from time to time by the central council".
In other words, they should be used only for Gaelic games, although critics point out that GAA stadiums are used for other purposes such as concerts.
However, the association's central council "has the power to authorise the use of Croke Park for games other than those controlled by the Association".
In 2007, the ban on so-called foreign sports being played in Croke Park - the home of Gaelic games - was changed to allow soccer and rugby to be played there.
The Lord Mayor of Cork, Councillor Mick Finn, said he was disappointed, but that he understood why the GAA was unable to make Páirc Uí Chaoimh available for the match.
Cllr Finn said he had approached the Cork County Board regarding the availability of the stadium but the board responded that Croke Park was the only GAA stadium in Ireland where games other than Gaelic games could be played.
He said he was told by the Cork County Board that a rule change at GAA congress would be required to allow the match to proceed at Páirc Uí Chaoimh. He said he understood this.
The GAA will hold its next congress in February 2019.
However, others have reacted angrily to the situation.
Former Republic of Ireland player Andy Reid wrote on social media that it was "scandalous" pointing out that the GAA allowed concerts at its venues.
Cork South TD (member of Irish parliament) Michael McGrath wrote on Twitter that the GAA had missed a "golden opportunity".
It was a wasted opportunity to show the true values of the GAA, he added.
Liam Miller won 21 caps for the Republic of Ireland between 2004 and 2009.
He started his career at Celtic in 2000 before moving to Manchester United four years later, also playing for Leeds, Sunderland, QPR and Hibernian.
The Ireland/Celtic team will be managed by Martin O'Neill.
"It gives people a chance to pay their respects and we're all looking forward to it and I'm sure the Cork public will respond well to it and get right behind it. I know they will," added Keane.