Brexit: 1,000 new customs officers and vets for Irish ports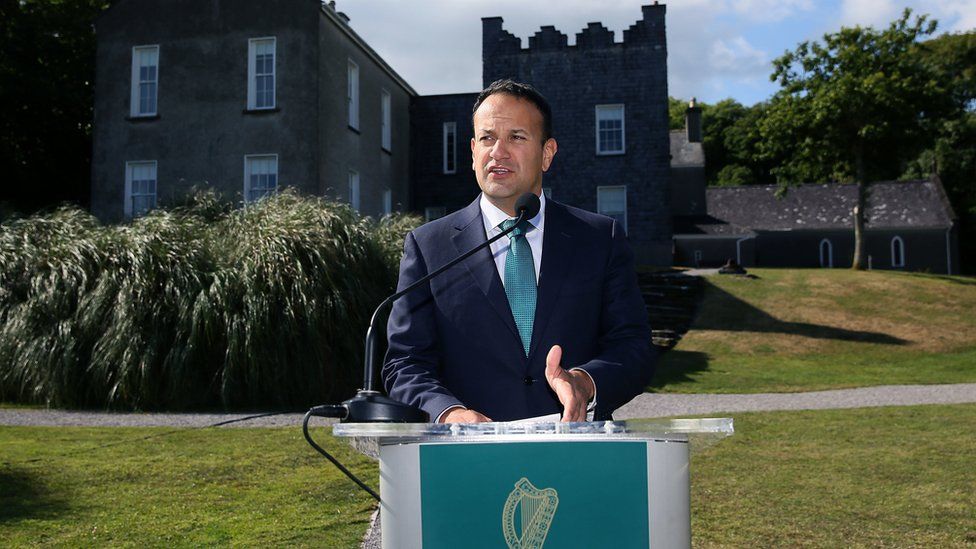 The Irish prime minister (taoiseach) has said his government is preparing to hire 1,000 customs and veterinary inspectors to deal with changes in rules of trade between the UK and the Republic of Ireland in 2021.
Leo Varadkar was speaking after a cabinet meeting in County Kerry.
The meeting was held to discuss contingency plans for a range of scenarios, including a no deal Brexit.
He said Irish ports and airports needed to be prepared.
Speaking after the meeting at Derrynane House, Mr Varadkar said that "with growing uncertainty" over whether Prime Minister Theresa May will get a withdrawal agreement through Westminster, the Republic of Ireland needs to "up our preparations when it comes to Brexit".
He said this includes preparing Irish ports and airports for a change in the rules between the UK and Ireland in January 2021.
"That involves preparing for and hiring veterinary inspectors to carry out sanitary checks on agricultural products and plant-based products coming in from Britain and also customs inspectors," he said.
"We estimate we will have to hire about 1,000 customs and veterinary inspectors to prepare our ports and airports for Brexit."
He added: "In the unlikely event of a no-deal Brexit next March, of course it will not be possible to have 1,000 people in place for then but we will make contingency arrangements in the event that might arise."
He said the Irish government has also increased resources for diplomats overseas in the hope of opening up new markets around the world for farmers and set aside £450m to provide low interest loans for the agri-food sector.
However, he stressed that the main scenario the Irish government is preparing for is one in which agreement is reached at October's Brexit summit.
Mr Varadkar said: "The central case scenario we're preparing for is one in which there is an agreement in October, that there is a transition period running until the end of 2020 and that there is a backstop assuring us that there will be no hard border between Northern Ireland and Ireland.
"But behind that, we do have to deal with scenarios like a no-deal Brexit."
He said a "rainy day fund" is being set up to deal with the potential impact.
He added: "If we do run into trouble over the next couple of years, it will be because of Brexit and that's why it makes sense to balance the books so that if the proverbial hits the fan, we're not as exposed as we were 10 years ago."