'Stupid statements' - Trump WW3 jibe stuns Montenegro
By Guy Delauney
BBC News, Balkans correspondent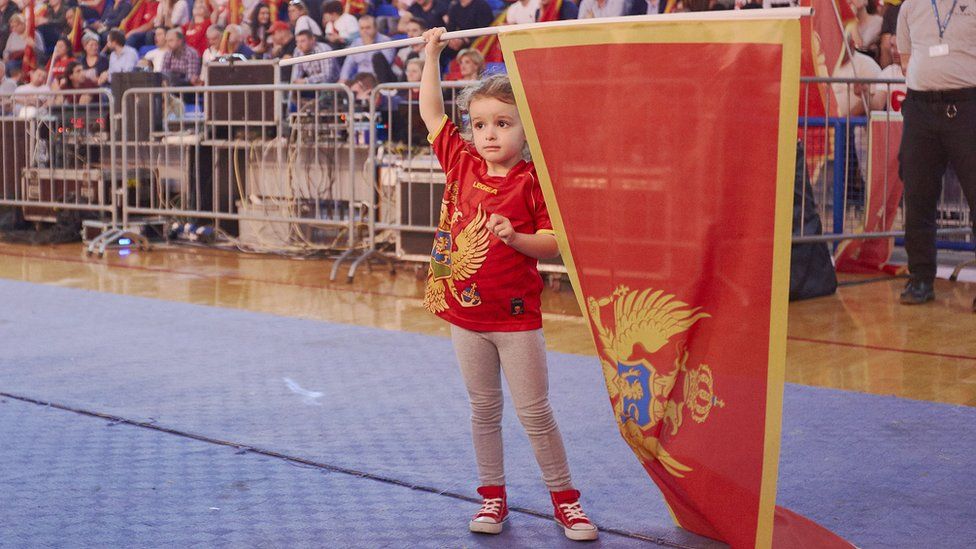 Donald Trump reckons that Montenegro is a "tiny country with very strong people". And he will soon discover that they have forceful opinions as well.
"He's the strangest president in the history of the United States," Ranko Krivokapic told the BBC.
Mr Krivokapic knows a thing or two about being a president. He served as President of the Parliament of Montenegro from its independence in 2006 until 2016 - and remains president of the opposition Social Democratic Party.
It is fair to say he is unimpressed with the current US president's approach to diplomacy and world affairs.
"With this kind of president, with his knowledge of foreign policy, who knows what is going on? Foreign policy is not his big thing."
'They're very aggressive'
In an interview with Fox News, Mr Trump suggested that this country of fewer than a million citizens could somehow provoke a global conflict. His reply to interviewer Tucker Carlson caused jaws to drop on the Adriatic coast.
"Let's say Montenegro, which joined last year, is attacked," Carlson told the president. "Why should my son go to Montenegro to defend it from attack?"
"They're very strong people, they're very aggressive people. They may get aggressive and, congratulations, you're in World War Three," Mr Trump extemporised.
Article 5 has been invoked just once, by the US, after the attacks of 11 September 2001.
Boris Raonic, programme director at the Civic Alliance human rights organisation, was among those who could barely believe what they were hearing.
"We are used to having [a US president] who unites and promotes Western values; now, instead of a leader, we have a showman."
Mr Raonic says even this would not matter so much if Mr Trump had bothered to study the countries and issues about which he was making snap pronouncements.
"He is obviously not reading what the state department prepares for him, so we get these stupid statements, which clearly show a lack of knowledge and respect for role that the US had until now."
Nato forces 'not required'
Mr Trump's depiction of Montenegro as a nation of conflict-crazy lunatics will probably come as a surprise to the million tourists who come each year to enjoy the mountains and beaches.
And it is not a picture that Ranko Krivokapic recognises either.
"Peace in Montenegro is not in any kind of danger. Everything is under control - Nato forces are not required in Montenegro."
Boris Raonic is equally unimpressed by Mr Trump's characterisation of modern-day Montenegrins.
"Montenegro departed from its [militaristic] tradition more than half a century ago. [Mr Trump's] claims are, to say the least, inappropriate as we are narrowing our path towards EU accession. Being a Nato member provides us additional security."
But it doesn't necessarily guarantee respect.
Montenegro's Prime Minister Dusko Markovic discovered that at a Nato summit last year, when Mr Trump shoved him out of the way as heads of government assembled for a "family photograph".
Why Montenegrins are uneasy about Russian influence
The US president may also be betraying his ignorance of - or insensitivity towards - Russia's recent activity in the Western Balkans.
Russia has made it clear that it still sees the region as part of its sphere of influence.
Prior to Montenegro's Nato accession, Russia's then-deputy PM Dmitry Rogozin, said the former Yugoslav republic would "regret" joining the alliance.
The people of #Montenegro boldly withstood pressure from #Putin's Russia to embrace democracy. The Senate voted 97-2 supporting its accession to #NATO. By attacking Montenegro & questioning our obligations under NATO, the President is playing right into Putin's hands.

— John McCain (@SenJohnMcCain) July 18, 2018
Montenegrin prosecutors allege that Moscow was behind a subsequent apparent coup attempt in 2016; Russia has denied responsibility.
Ranko Krivokapic says he is concerned that his country may have been a bargaining chip at the Trump-Putin summit.
"I hope Montenegro was not on the table in Helsinki; I hope Mr Trump was just giving a reaction to the Fox question, nothing deeper.
"It is very important for us that we are part of Nato. The issue is practically closed and accepted in Montenegro; we are accepted as part of the West."
Boris Raonic, meanwhile, has some withering words in response to Mr Trump's praise for Russia's role in World War Two.
"Proportionate to the number of inhabitants, Montenegro had the largest number of casualties in both world wars, as we led the struggle despite being one of the smallest nations in the region."
More outraged Montenegrins are sure to use the US president's preferred medium, Twitter, to put him right. Doubtless in a strong, aggressive fashion.