Brú na Bóinne: Megalithic tomb discovered in Meath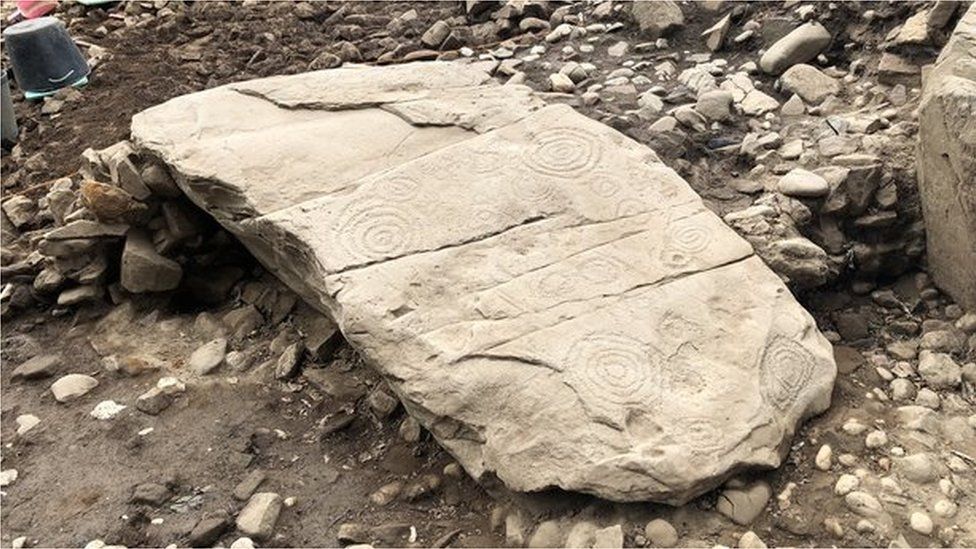 The discovery of a 5,500-year-old megalithic tomb in County Meath has been described as the "find of a lifetime" by archaeologists.
Two burial chambers, six kerbstones and two suspected satellite tombs have been found during the dig.
The find was made at the 18th Century Dowth Hall, within the Brú na Bóinne complex, a Unesco World Heritage site.
The project is being carried out by the agri-technology company Devenish and University College Dublin (UCD).
Teams from UCD School of Archaeology and Devenish, the Belfast-based firm which acquired Dowth Hall and its lands in 2013, have been working on the site for more than a year.
Several monuments uncovered
There are now six heritage landscapes at Dowth dating back some 5,500 years, while work over the past five years has increased the number of recorded monuments on the site from eight to 13.
The two burial chambers were discovered within the western part of the main passage tomb, over which a large stone cairn was raised.
Six kerbstones are believed to have formed part of a ring of stones that followed the cairn perimeter, with one of the kerbstones heavily decorated with Neolithic carvings.
A further two possible satellite tombs were also found.
"The find of a lifetime" - archaeologist Dr Clíodhna Ní Lionáin on the discovery of a Megalithic passage tomb dating back some 5,500 years at the 18th century Dowth Hall in County Meath. pic.twitter.com/MhkAAoCTxp

— Philip Bromwell (@philipbromwell) July 16, 2018
Its origins have not yet been confirmed, but it is believed to be a late Neolithic or early Bronze Age enclosure.
Dr Clíodhna Ní Lionáin, Devenish's lead archaeologist for the project, said: "For the archaeologists involved in this discovery, it is truly the find of a lifetime.
"It's an exciting opportunity to get to know more about some of the earliest farmers here at the Boyne Valley who are responsible for creating these amazing monuments".
Dr Steve Davis from UCD called the tomb the "most significant megalithic find in Ireland in the last 50 years" since discoveries at Knowth.
"The spate of archaeological discoveries in Brú na Bóinne in recent weeks highlights what a globally significant place this is."
Irish Culture Minister Josepha Madigan said: "The discovery of this new and very significant passage tomb cemetery, dating back to the Neolithic period, some 5,500 years ago, is hugely significant as it will help improve our understanding of the people, culture and heritage in that era.
"To know that this historic site will be preserved for future generations to see, understand and cherish is positive in every respect."
The lands and Dowth Hall will be open to the public during Heritage Week, which is being held from 18-26 August.