World Cup 2018: Celebration as France lifts the trophy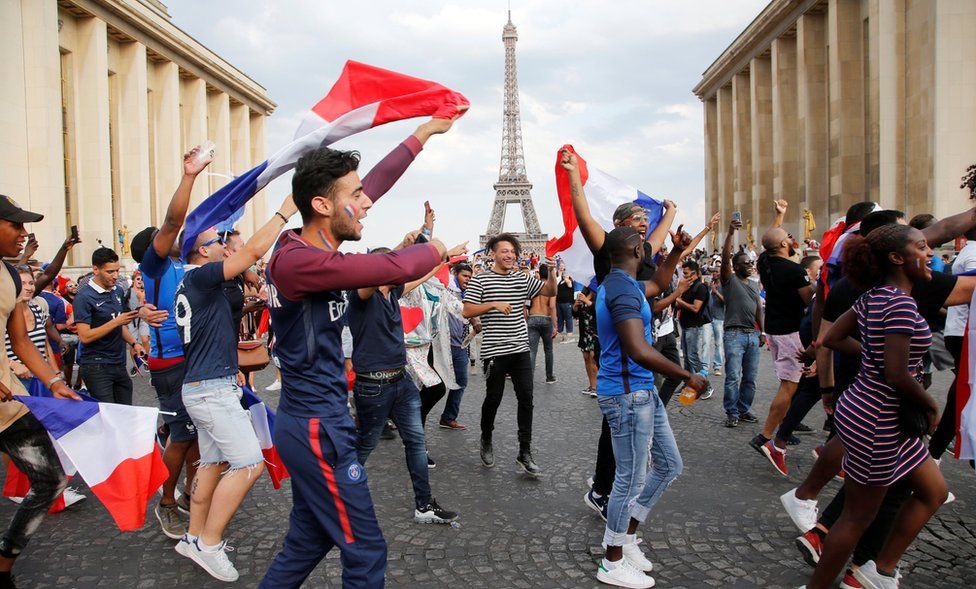 French fans have been celebrating after their team scored a 4-2 victory over Croatia to win the 2018 World Cup.
It was an emotional victory for all the team, but for none more than coach Didier Deschamps, who has now become only the third man in history to lift the trophy as both a player and a coach.
The match was paused briefly during the second half as officials removed four pitch invaders.
Russian punk protest group Pussy Riot later posted a statement on their Facebook page claiming responsibility for disrupting the match, which was attended by President Vladimir Putin.
The below image of President Macron celebrating a goal went viral, with some social media users suggesting the French leader use it in his next campaign.
But one of the most eye-catching moments came during the winners' presentation, when President Putin was the first person to be given an umbrella during the driving rain, while the French and Croatian leaders got soaked.
Reactions from social media users varied from humour to disbelief that Mr Putin did not share his umbrella with his foreign counterparts.
Do they only have one umbrella in Russia?!! 😂🙈

— Siobhan ⚽️👐🏼 (@Sio_Chamberlain) July 15, 2018
All pictures subject to copyright.