Spain far right protest against moving Franco's remains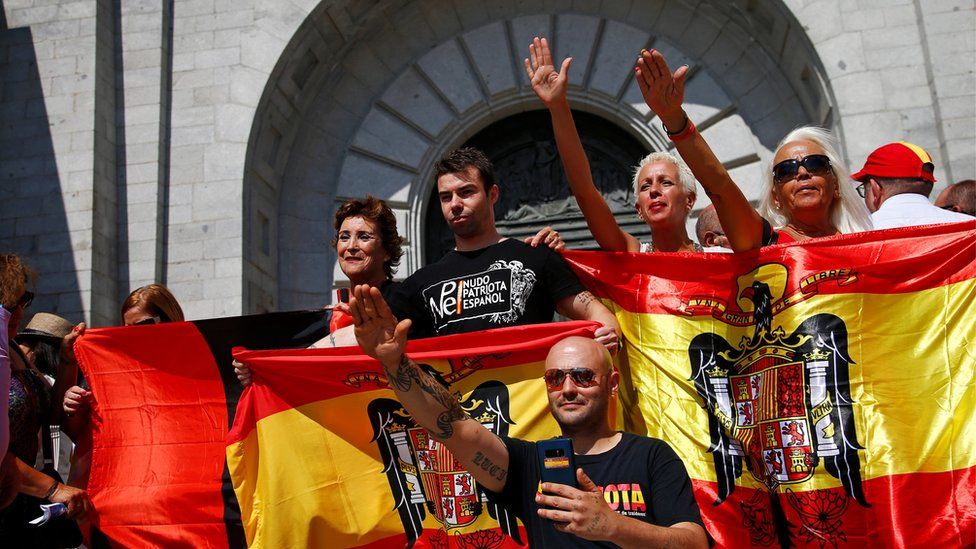 Some 1,000 people are protesting at the tomb of former Spanish dictator Gen Francisco Franco against plans to move his body, reports say.
A far right group had called for a "pilgrimage" to the controversial Valley of the Fallen monument near Madrid.
Spain's new socialist government wants to exhume his remains, describing the tomb as a "divisive symbol".
It is a shrine for Spain's far right, who pay homage to Gen Franco there.
The monument was constructed by the right-wing dictator, who ruled Spain from 1939 until his death in 1975.
Victims from both sides of the 1936-39 civil war are interred there. However, the site is controversial for many Spaniards, as it is seen as a place dedicated to the victory of Gen Franco's nationalist forces over their Republican opponents.
Reports said protesters were singing the song Cara al Sol, the anthem of the fascist Phalange party, whose founder Jose Antonio Primo de Rivera is also buried at the site.
Others were carrying the flag of Spain under Franco.
The new government in Madrid wants the site to be turned into a "memorial to the victims of fascism".
However Gen Franco's descendants are opposed to removing his remains.