Adnan Oktar: Turkish TV preacher arrested on fraud and abuse charges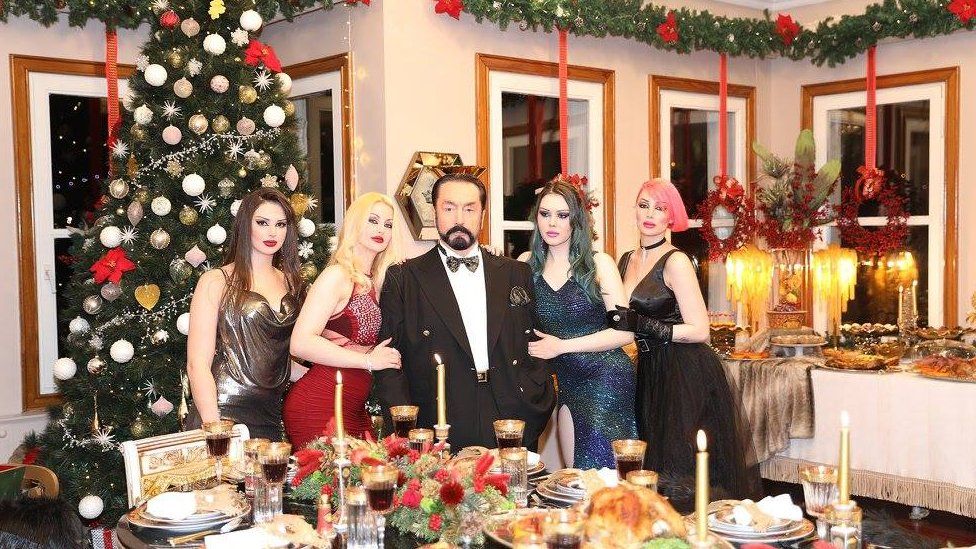 Turkish police have arrested a controversial preacher known for giving televised sermons surrounded by young women he refers to as his "kittens".
Adnan Oktar was detained on Wednesday morning on suspicion of fraud, alongside more than 100 of his followers in a series of raids.
Critics have accused the Islamic preacher of running a cult.
He operates his own television channel, through which he delivered his religious sermons.
Turkey's financial crimes police were behind the morning raids on Mr Oktar and his followers. They were arrested on suspicion of a litany of charges, including running a criminal organisation, tax offences, sexual abuse, and counter-terrorism laws.
Turkish media said 166 of his followers were arrested, but a total of 235 are being sought.
State-run news agency Andalou said he was on the financial crimes unit "most wanted" list - and had been caught while getting ready to flee.
More than 50 guns were seized during the series of raids, along with ammunition, Andalou said.
Assets belonging to Mr Oktar and all 235 suspects have been confiscated by the courts, it added.
Turkish media appeared to have been given advance notice of the operation, as some were on the scene to record Mr Oktar's arrest.
Before being led away, he told journalists that the allegations made against him were "lies" and "a game by the British deep state", a topic he has frequently spoken about in the past.
He told Cumhuriyet newspaper that the operation was requested by the "British intelligence".
"The British intelligence has long wanted an operation to be launched on us. A delegation was sent to Turkey in this regard. This request was conveyed to [President Recep Tayyip Erdogan] during his visit to the UK," he said.
The preacher's views have earned him a degree of notoriety both in Turkey and abroad, having been arrested multiple times in the past, and having spent time both in prison and a mental hospital over the years.
He is a fierce opponent of the theory of evolution, and has written a book called "the Atlas of Creation" using a pen name.
Multiple copies were reportedly shipped to academics and libraries as far away as the United States - unrequested - and the volume has been widely lampooned for its errors about the animals it features, including a photo of a plastic fishing bait fly, complete with hook.
His television broadcasts involving his so-called "kittens" in heavy make-up and athletic-looking young men - his "lions" - have attracted the attention of Turkey's religious affairs department.
His broadcasts convey Islamic views - but officials took issue with those being mixed with scantily-clad belly dancers between speeches. In January, the head of the department suggested that Mr Oktar "has most likely lost his mental balance".
Turkey's broadcast regulator issued a five-episode suspension over the row, saying it violated gender equality and women's rights.