Germany to fight anti-Semitism in schools with new team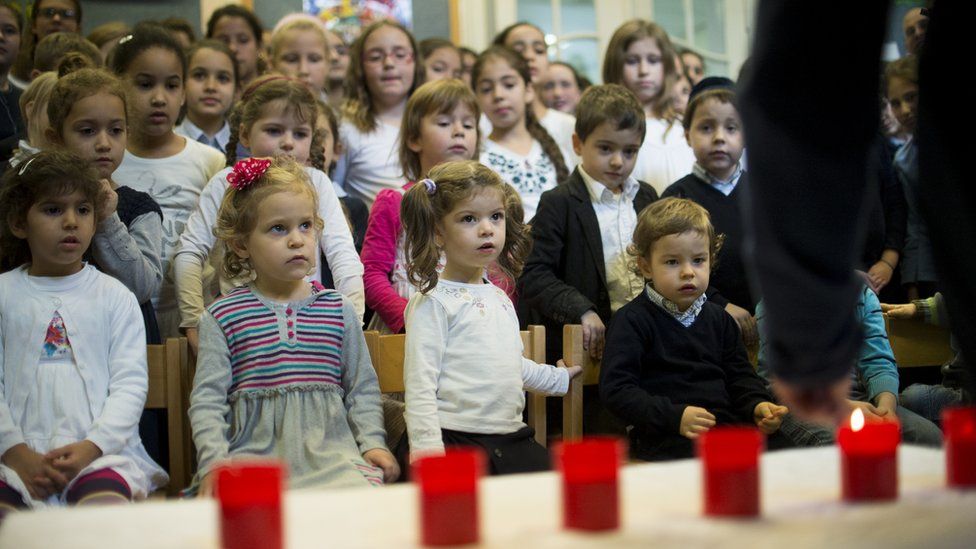 The German government plans to send 170 anti-bullying experts into schools after the summer break to tackle anti-Semitism among children.
"Anti-Semitism in schools is a big problem," Families Minister Franziska Giffey said.
Last month Germans were shocked by the case of a boy aged 15 taunted by anti-Semitic bullies at the John F Kennedy School in a well-off area of Berlin.
Germany remains haunted by the Nazis' mass murder of Jews in 1933-1945.
Ms Giffey, a centre-left Social Democrat (SPD) politician, said teachers needed more support to combat anti-Semitism, as the problem went beyond the classroom, involving parents and society at large.
"So in the coming school year, as a first step, we will send 170 anti-bullying experts into selected schools in Germany, funded by the federal authorities," she told the daily Rheinische Post.
It remains unclear if the Jewish boy bullied at the John F Kennedy School will return there after the summer, the Berliner Morgenpost daily reports (in German). The bilingual school in Zehlendorf teaches German and American children.
Reports say one bully blew e-cigarette smoke in the boy's face, saying "that should remind you of your forefathers" - a sarcastic reference to the Holocaust.
Bullies also reportedly drew swastikas on post-it notes and stuck them on the boy's back.
Before 1989, Germany's Jewish minority numbered below 30,000. But an influx of Jews, mainly from the former Soviet Union, has raised the number to more than 200,000.
How bad is anti-Semitism in Germany?
Berlin's Anti-Semitism Research and Information Office (RIAS) says anti-Semitism is expressed on various levels, and not only by neo-Nazis, or by Muslim extremists who hate Israel.
"There is overall a worrying development of anti-Semitism becoming more socially acceptable. It has grown over the last couple of years and many cases go unreported," researcher Alexander Rasumny at RIAS told the BBC.
RIAS documented 947 anti-Semitic incidents in 2017, including 18 physical attacks, compared with 590 in 2016. The watchdog's annual report (in German) said the increase was partly a result of more Germans reporting such incidents to RIAS, having learnt of its work.
In an interview (in German) with the daily Der Tagesspiegel, the German government's new anti-Semitism tsar, Felix Klein, spoke of "a brutalised climate now, in which more people feel emboldened to say anti-Semitic things on the internet and in the street". "Previously that was unthinkable, but the threshold has dropped."
What other incidents have hit the headlines?
In April two young men wearing traditional Jewish skullcaps (kippahs) were assaulted in Berlin. The attacker, a 19-year-old migrant from Syria, was filmed shouting anti-Semitic abuse.
They were not prosecuted, but were taken on an educational visit to Auschwitz, where the Nazis murdered an estimated 1.1m Jews during World War Two.
Why this focus now on schools?
Mr Schuster says schools must take anti-Semitism seriously and not sweep it under the carpet.
"Such incidents happen in all types of school and all over Germany," he warned.
One boy subjected to anti-Semitic taunts at a Berlin school was given a separate room to use during breaks, as well as a separate entrance, RIAS reported.
Another Jewish boy was removed from a school by his parents after a gang had tormented him for months and threatened him with a realistic-looking toy pistol.
Mr Rasumny told the BBC that anti-bullying action had to involve awareness training for teachers, because "they don't always recognise current forms of anti-Semitism, or know when and how they should intervene".
There have been cases of anti-Semitism even among kindergarten children.
There is much under-reporting of incidents in schools, Mr Rasumny said. "There is pressure to conform to the rules, not to be different, and often kids report bullying only if they can't stand it any more," he said.
In one case, he said, a Jewish music teacher had left a school after being told by a pupil there that "God wants Jews to die". It emerged that another teacher had said something similar to the child's mother.
German schools should teach children about Jewish history and culture as a whole, Mr Rasumny said, in order to tackle anti-Semitism. "It's very important to educate about the Holocaust, but German Jewish history did not just start in 1933 and end in 1945," he said.