Ryanair pilots' strike set to go ahead despite airline's appeal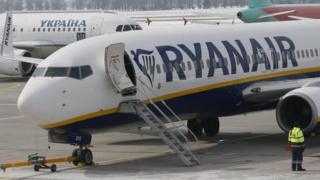 The Irish Airline Pilots' Association (IALPA) has told Ryanair its strike notice for July 12 still stands, despite the airline asking it to call it off.
Ryanair had urged the pilots to cancel the strike, which it said was unnecessary.
IALPA said the strike would only be averted if agreement is reached on its key demands for a seniority agreement.
The pilots voted to strike for 24 hours.
The strike is due to begin at 01:00 on 12 July - the start of the traditional holiday fortnight for hundreds of thousands of people in Northern Ireland.
It is likely to affect thousands of holidaymakers who travel to Dublin to take flights at that time of year.
Knock-on effect
Only pilots based in the Republic of Ireland voted to strike but the union has warned it could have knock-on effects for flights elsewhere.
The dispute stems from management's approach to transfers between bases.
The IALPA ballot of those directly employed by Ryanair resulted in overwhelming support - 99% - for action.
Irish national broadcaster RTÉ reports that Ryanair said it offered to meet IALPA and its affiliate union Fórsa at the airline's headquarters in Swords, near Dublin, as early as Monday.
Fórsa representative Angela Kirk said Ryanair pilots decided to proceed with the strike ballot because they had seen "no evidence whatsoever on the part of Ryanair management to engage in meaningful negotiations with a view to reaching agreement on the issues they have presented to the company".
She also said that Fórsa/IALPA had consistently suggested the two sides should meet at a neutral venue, which the union would pay for, rather than Ryanair's headquarters.
Previously, Ryanair claimed the strike was unnecessary as it had already forwarded relevant documentation to Fórsa and invited it to discuss these proposals on a number of occasions.
It said it would notify customers of any possible disruption to their flights by Tuesday - two days before the strike.
Meanwhile, cabin crew at Ryanair based in Italy, Portugal, Spain and Belgium say they will strike in late July.