Review of 3,000 smear tests in Ireland yet to start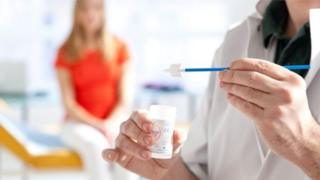 An independent physical review of about 3,000 cervical smear slides in the Republic of Ireland has yet to start, the country's department of health has said.
In May, the Irish cabinet agreed to an independent investigation into failures in the state's cervical cancer screening programme.
It was expected that the review would have been completed by the end of May.
The terms of reference have not yet been published.
The independent investigation was announced after the revelation that more than 200 women diagnosed with cancer should have received earlier intervention.
It was later revealed that 18 of the 209 women died having been given incorrect smear test results by the national cervical cancer screening programme.
The scandal led to the resignation of Ireland's health service chief, Tony O'Brien.
In May, the Irish prime minister, Leo Varadkar, said that the Republic of Ireland's Department of Health was going to ask expert British pathologists to review between 2,000 and 3,000 cases from the last 10 years where women were later diagnosed with cancer.
On Thursday morning, the Irish minister for health, Simon Harris, said the review would begin "very, very shortly".
He told Irish national broadcaster RTÉ that the Royal College of Obstetricians and Gynaecologists in the UK had started work in relation to the matter and a there is "a huge body of work to be done".
Earlier, the department had said the terms of reference and the scope of the review have been agreed and that preparatory work is under way.
Mr Harris said the external review would help to build confidence in the cervical screening programme.
"I expect it will start reviewing slides very, very shortly, but I think it's important that they get this right," he added.
"This process is about externally validating our screening programme to make sure it's the best.
"It is about learning from the mistakes of the past."