Leo Varadkar 'regrets' reaction to comments on media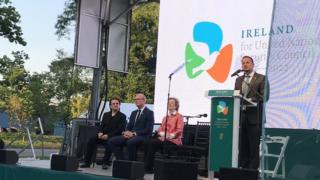 Irish Prime Minister (Taoiseach) Leo Varadkar has said he profoundly regrets if anyone thought he did not support a free press.
It follows comments he reportedly made at a private function in New York on Monday.
It is reported that the taoiseach said Donald Trump's criticism of the media was one of the few things he could sympathise with the US president about.
The National Union of Journalists (NUJ) called on him to clarify the comments.
The taoiseach (prime minister) was in the US as part of Ireland's bid for a seat on the UN Security Council.
The Irish Times reported that during a private lunch hosted by Irish Consul General Ciarán Madden, Mr Vardkar said that the media was not interested in the truth but in the story.
According to the Irish Times, Mr Varadkar claimed political journalists were more interested in gossip at the Dáil (Irish parliament) than in the workings of government, saying they were interested in "whispers in the corridors".
'Heated exchanges'
The paper said Mr Varadkar was challenged on his views by guests at the lunch, "in what were at times heated exchanges".
It was pointed out to him that investigative journalism exposed how political profiling firm Cambridge Analytica obtained personal data from social media companies for use in Mr Trump's presidential campaign.
The taoiseach replied that the print media often focused on technology and social media companies because they were taking away their business and that some investigative journalism in Ireland was incorrect, singling out RTÉ in particular for criticism.
A number of opposition politicians called on Mr Varadkar to clarify his comments when he addressed the Dáil during Leaders' Questions on Wednesday afternoon.
Mr Varadkar said he strongly believed that a free press was important for democracy to function.
In response to Sinn Féin leader Mary Lou McDonald, Mr Varadkar said he tried to be as accessible and open with the media as he could.
However, he said the media should not consider itself beyond reproach or above criticism.
Mr Varadkar told the Dáil that there was no official record of the exchanges as there was no speech and it was a "back and forth conversation" on many topics.
The taoiseach said that he said a lot of positive things about the media during the event and acknowledged its role in bringing about social change.
'Own goal by taoiseach'
He also said that he believed he got a fair hearing in the media and that journalists were under pressure to produce stories because of the volume of media outlets.
Mr Varadkar said his only reference to RTÉ, was in relation to the Mission to Prey programme, in which false allegations were made about a priest fathering a child.
Earlier, NUJ Irish general secretary Seamus Dooley said: "If the object of the visit to New York was to project Ireland as a modern democracy then expressing sympathy with Donald Trump's views on the media was a spectacular own goal by an taoiseach.
"Donald Trump has shown nothing but contempt for the media and it is disturbing that Mr Varadkar should in any way align himself with the views of the American president on this issue."
In a statement on Wednesday morning, a spokesperson for Mr Varadkar said he was speaking at a private event, where those who attended included young Irish people based in New York who work across a range of sectors, including media, finance and technology.
He said the conversation was being "quoted selectively and out of context" and the taoiseach "believes that a free, fair and balanced press is a cornerstone of our democracy".
However, Mr Dooley said while Mr Varadkar is entitled to his personal views on the media, his comments were made at an official function.
"This was not a casual conversation between mates but an overview by an taoiseach and is therefore deserving of scrutiny," he said.