Dublin Bus drivers' Pride surprise goes viral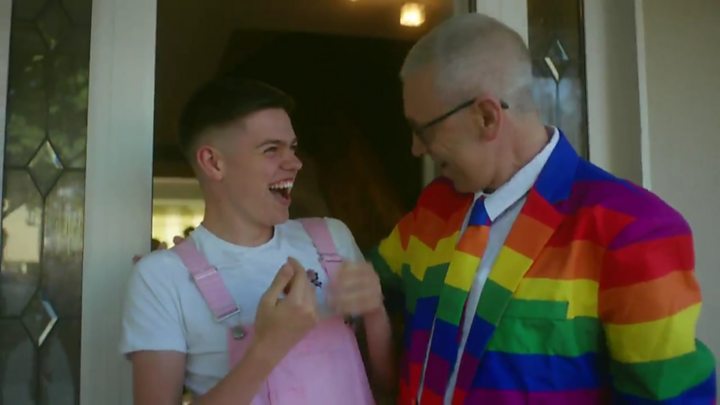 Dublin's main bus company has released a video in celebration of LGBTQ Pride.
The video shows Dublin Bus drivers surprising their LGBTQ children ahead of the city's parade, and it has been watched by hundreds of thousands on social media.
Tens of thousands took part in Sunday's annual Pride parade that has been going since 1983.
It is the second biggest festival in the Republic of Ireland after St Patrick's Day.
'As accepting'
Stephen McEvoy has worked as a bus driver for Dublin Bus for 36 years.
He surprised his son, Liam, dressed in a rainbow suit and then drove the Dublin Pride bus for the day.
Speaking about son's reaction, Stephen said: "He knew nothing at all about it. The surprise element was amazing.
"He said it was the best surprise he has ever had".
Stephen had never been to Pride before, but said he won't forget his experience.
He added: "Everybody was so happy. We went into the parade and everybody was in amazing form."
John Quinlivin was surprised by his dad Pat, who knocked on his door adorned in rainbow braces.
Speaking about the day, John said his dad had experienced something new.
He said: "I'm aware that some people don't have family as accepting as mine. I'm so lucky."
John said that the atmosphere on the Dublin Bus was "incredible."
"The tunes were going, there was dancing, it was such fun!"
Speaking about his dad Pat's first Pride experience, John said that "he loved it. He had never seen a Drag Queen before!"
He said the whole day was "something I never thought would have happened.
"It's an experience that I will hold close to my heart and think, that was awesome".