Endangered sharks found mutilated in Portrush, County Antrim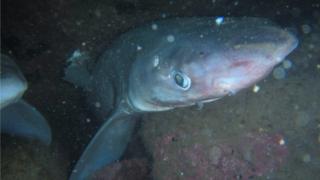 An investigation is under way after mutilated sharks were found in Portrush harbour.
Up to six Spurdog sharks, each more than a metre long, were discovered by a diver - their dorsal and tail fins had been cut off.
The Department of Agriculture and Environment said it was aware of the incident and is investigating.
The diver said he had been "disgusted" to discover that they had had their fins removed and dumped.
He reported the incident to the authorities.
Spurdogs are on a list of threatened species held by an internationally recognised conservation charity.
The International Union for Conservation of Nature says they're particularly vulnerable because they are slow growing and slow to reproduce.
A conservation charity recently launched a conservation project aimed at conserving shark and skate off the Northern Ireland coast - including Spurdog.
The project includes training fishermen to tag the fish and record the catch before releasing the animals alive.
Spurdogs are not protected in Northern Ireland waters though there is no quota for them meaning that they should not be commercially fished.