French boy, 12, makes record English Channel crossing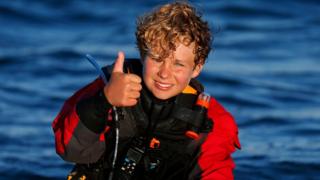 A 12-year-old French boy has broken the record for crossing the English Channel in a small children's sailing dinghy.
Tom Goron set sail from the Isle of Wight at 05:00 local time on Wednesday and arrived in France 14 hours and 20 minutes later.
He broke the previous record set by 15-year-old Violette Dorange in 2016 by 36 minutes.
"I'm proud of him," his mother said after he completed the feat. "He is stubborn, ambitious and perseverant."
The schoolboy made the 60-mile (96km) crossing in an Optimist boat at an average speed of more than four knots. He was followed closely by his father who was on hand in case anything went wrong.
He suffered from seasickness during the attempt and wanted to give up after five hours but his father persuaded him to keep going, according to the Le Figaro newspaper.
On arrival, he said that he hoped to one day emulate the French yacht racer François Gabart, who last year set a new world record for the fastest solo round-the-world navigation.
Young record-breakers
In 2007, a 14-year-old English boy became the youngest person to sail across the Atlantic Ocean single-handedly.
Michael Perham completed the 3,500-mile trip in his yacht, Cheeky Monkey. He broke the previous record set in 2003 by 15-year-old Seb Clover.
He later became the youngest person to sail solo around the world after tackling giant waves, gale force winds and technical problems during a 30,000-mile circumnavigation aged 17.
But his title was soon taken by Dutch schoolgirl Laura Dekker who completed the voyage aged 16 in 2012 following a lengthy court battle over whether she would be allowed to set sail.
Eleven-year-old Tom Gregory is the youngest person to ever swim the English Channel after completing the feat in 1988.