Leo Varadkar defends appointment of Drew Harris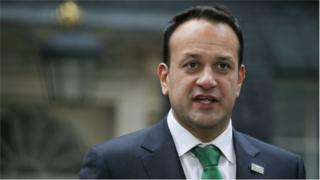 The Taoiseach (Irish prime minister) has accused Sinn Féin of trying to undermine the newly-appointed Garda commissioner before he takes office.
PSNI Deputy Chief Constable Drew Harris was formally appointed as the new police chief in Ireland on Tuesday.
Mr Harris becomes the first Irish police chief appointed from outside of the state.
The Sinn Féin leader said they would "work constructively" with Mr Harris but would hold him to account.
'Stranglehold'
Speaking in the Dáil (Irish parliament) on Wednesday, Mary Lou McDonald condemned the PSNI and its predecessor, the Royal Ulster Constabulary (RUC), referencing victims of the Miami showband massacre of 1975 in which the RUC were allegedly colluding with the killers.
She said Mr Harris was therefore "part of a culture that has denied people the truth" and that had "stranglehold" on legacy matters.
Ms McDonald called on Mr Harris to make a statement on what British intelligence he had access to about collusion.
Mr Varadkar responded to Ms McDonald's remarks saying that he found Sinn Fein's attitude to be "a little disappointing".
The prime minister said that everybody had a role to play in truth and reconciliation.
"This applies to Sinn Féin and everyone," he added.