Impressive CV but some could have concerns over new Garda chief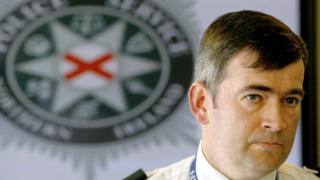 The appointment of Drew Harris will have caused surprise, and perhaps even concern, in some quarters.
No one can question his policing credentials.
The CV he attached to his application form for this job spanned 35 years experience of policing. It's the nature of some of that experience that may draw criticism.
Before being appointed deputy chief constable of the PSNI in October 2014, Drew Harris led the department responsible for tackling dissident republican activity.
He was responsible for sanctioning covert intelligence operations, and was a regular visitor to MI5's headquarters in Holywood where he liaised with the security service on national security issues.
Mr Harris was also the officer in overall control of the investigation that resulted in the arrest of Sinn Féin president Gerry Adams by detectives investigating the 1972 murder of Jean McConville.
He was released without charge.
The arrest prompted the deputy first minister at the time, Martin McGuinness, to claim there was a "dark side" within the police that were conspiring with enemies of the peace process.
Drew Harris's intelligence role resulted in frequent criticism from Sinn Féin members of the policing board.
He also angered some within the Garda (Irish police) with evidence to the Smithwick Inquiry, which investigated allegations of Garda involvement in the murders of senior RUC officers Harry Breen and Bob Buchanan in south Armagh in 1989.
In evidence given in private, Mr Harris said there was intelligence to indicate that several Garda officers colluded in the murders.
The fact that a senior British police officer with strong links to the security service has been appointed to the most senior role in Irish policing will undoubtedly cause surprise and possibly some concern.
So too will the fact the the appointment comes at a highly sensitive time when relations between the UK and the Republic are on edge because of Brexit, with policing and security the most sensitive issue on the agenda.
Some may ask whether Drew Harris will have divided loyalties in the security debate given his previous roles.
Supporters would argue it was those roles that made him the perfect candidate.