Dublin church: Car hits mourners at funeral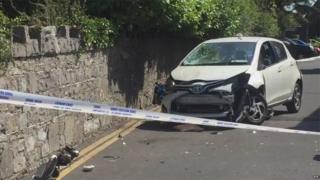 Seven people have been injured after they were hit by a car in the grounds of a church in Dublin.
It happened at approximately 10:20 BST at the Church of the Immaculate Conception in Clondalkin, where people had been gathering for a funeral.
Four people are being treated in hospital overnight, two of those are said to be in a serious condition.
A number of other people were treated at the scene.
Gardaí believe the collision was accidental, occurring after the driver of the car fell ill.
A white Toyota car was examined by police forensic investigators.
According to RTÉ, eye-witnesses say a large crowd was waiting in the church yard on the arrival of the hearse for this morning's funeral.
They reported that the car involved in the incident was manoeuvring in the church yard.
Dublin Fire Brigade said on Twitter: "We have a number of fire and ambulance units at this RTC. It is a developing situation.
"We are appealing for the public to avoid the area while we get rescue vehicles in and out of the scene".
A funeral that had been scheduled for 10:00 was deferred until the afternoon.