Boru: Golden eagle missing in Monaghan returns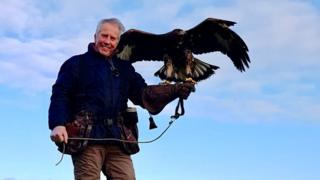 A golden eagle that went missing near the border between Northern Ireland and the Republic of Ireland nine days ago has returned to his owner.
Boru took to the skies on 14 June during a falconry display at Castle Leslie, County Monaghan.
Brian McCann, owner of Newbridge Falconry, said the bird had broken the leash tethering him to his perch.
But Boru flew onto his owner's hand at lunchtime on Saturday, near the spot where he went missing in Glaslough.
There had been a major search for the eagle in Monaghan and south Armagh since he went missing.
Speaking to the BBC after the bird of prey went missing, Mr McCann said: "It's a disaster, the worst thing that could ever happen."
He added: "The quality of the leash was not what it should be.
"I got out some food and tried to lure him down from the trees where he landed.
"I was there for about an hour-and-a-half trying to coax him, and when he finally attempted to come for the food, the wind took off and it pushed him past it."