Pope's Ireland visit: Knock tickets allocated within hours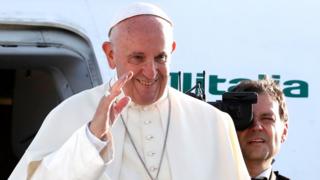 All 45,000 tickets for the visit of Pope Francis to Knock Shrine in County Mayo have been allocated within hours of being released.
Free tickets to see the pontiff lead Catholic ceremonies during his visit to the Republic of Ireland were made available online on Monday morning.
The pontiff will arrive in Dublin on 25 August for a two-day tour, the first Irish papal visit for almost 40 years.
His tour includes events at Dublin's Phoenix Park, Croke Park and Knock.
Most Croke Park stadium tickets have already been allocated but Phoenix Park has the capacity to accommodate 500,000 people and tickets remain available for that event.
The papal tour takes place during the Catholic Church's World Meeting of Families festival, which is being hosted by Dublin this year.
The organisers have said they expect "hundreds of thousands of people from across Ireland and abroad" to attend the final Mass in Phoenix Park on Sunday 26 August.
Tickets for the Mass and for a separate ceremony in Knock earlier that day have been made available through the World Meeting of Families 2018 website.
Members of the public have to complete a registration form on the website and if successful, the tickets will be emailed to them free of charge.
'Ticket tout fear'
Irish state broadcaster RTÉ reported that security measures are in place to stop people from selling the tickets, and the organisers have said that anyone attempting to do so should be reported to the Gardaí (Irish police).
Many of the tickets for the Festival of Families event in Croke Park have already been allocated to the thousands of people who paid fees to attend the World Meeting of Families 2018's three-day congress, prior to the Pope's visit.
The congress is being staged from 22 to 24 August in Dublin's RDS and the registration process included the option of a free ticket for the Croke Park event.
The stadium is one of the largest in Europe, with a capacity of more than 82,000.
However, the organisers said due to "high demand," they were unable to put the remaining Croke Park tickets on general release and they now "can only be accessed through congress registration".
Papal visit to Ireland: Itinerary highlights
Saturday 25 August
08:15 - Departure by plane from Rome for Dublin
10:30 - Arrival at Dublin Airport for official welcome
10:45 - Transfer to Áras an Uachtaráin (Irish president's residence)
11:15 - Welcome ceremony with President Michael D. Higgins
12:10 - Arrival at Dublin Castle for meeting with authorities, civil society and diplomatic corps
15:30 - Visit to St Mary's Pro-Cathedral
16:30 - Private visit to the Capuchin Day Centre, a centre for homeless people
19:45 - Preside at the Festival of Families at Croke Park stadium
Sunday, 26 August
08:40 - Departure by plane for Knock
09:45 - Arrival at Knock Shrine for visit to the Apparition Chapel and recitation of the Angelus
11:15 - Departure by plane for Dublin
12:30 - Lunch with the Papal Delegation
15:00 - Closing Papal Mass of the World Meeting of Families in Phoenix Park followed by a meeting with the Irish bishops
18:30 - Farewell ceremony at Dublin Airport
18:45 - Departure by plane for Rome
23:00 - Arrival in Rome
Pope Francis will follow in the footsteps of his predecessor, Pope John Paul II, who visited Dublin and Knock in September 1979.
Pope John Paul II's public appearances drew crowds of over 2.5m - more than half the state's population at the time.