Irish town adopts Peru for World Cup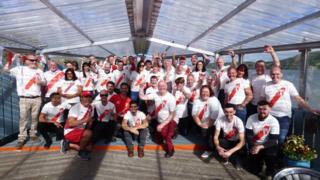 There are few places outside Peru where every twist and turn of the national team's World Cup adventure is being cheered as loudly as in the Irish town of Rathmullan.
Without an Irish team to back, Rathmullan locals have thrown their full support behind the Peruvians.
The Donegal town is a sea of red and white in homage to 'la Blanquirroja' (the white-and-red).
An opening game defeat has not dampened spirits.
"Peru were nervous in that first game against Denmark," said parish priest Fr Martin Collum.
"We're now playing France. The only thing is Peru are a bit like Ireland - they are better off as underdogs so I think they are in with a good chance."
Fr Collum knows a thing or two about Peruvian football having worked in the South American country for 14 years as a missionary.
Now, he is double jobbing as secretary of the Rathmullan Supporters' Club.
The soccer mania all started with a post-Mass conversation between the priest and Cormac Fegan, chairman of Rathmullan Celtic, in the weeks before the World Cup.
Keen to know where Fr Collum was planning on watching the Peru games, the club chairman invited the priest to join him and some friends.
Fr Collum said it snowballed quickly from there.
Altar servers
"It is absolutely fantastic. At first, we said we'll meet together and watch the match and get a few jerseys. A little seed was sown and off it took," he said.
"Even the altar servers at Mass wanted their uniforms changed to red and white for the duration of the World Cup," he added.
"It's France now on Thursday, then Australia next Tuesday. It's a tough call but you just never know," he added.
Fr Collum said Rathmullan had been swept up in a carnival atmosphere since residents adopted Peru as their own.
"It is unbelievable. People who had never heard of Peru are now talking about it like it's their homeland.
"People of all ages in the town have got involved, I saw a women over the age of 80 wearing a Peru jersey at the weekend."
Before Saturday's game, fans sang the national anthem and ate the traditional Peruvian potato dish of Papa a la Huancaina.
Everywhere, in the coastal corner of Donegal, the Peruvian national colours are flying.
More than 150 T-shirts were ordered for fans eager to get involved in supporting their new team.
There was demand for many more.
Rathmullan's special guest for Saturday's game, the Peruvian deputy head of mission Alberto Gonzalez, his son and colleagues from the embassy travelled from Dublin for the opening game.
He brought along an official flag of his home country.
The flag now flies proudly above the Donegal town, one of only two official Peruvian flags in Ireland. The other flies at the embassy in Dublin.
It is hoped the embassy staff will return to Donegal for the final group game against Australia.
Peru are playing in their first World Cup since 1982.