Turkey issues warrant for NBA player Enes Kanter's father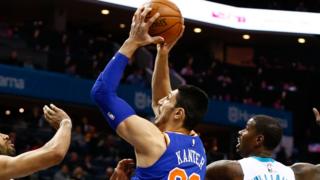 The Turkish government has issued an arrest warrant for the father of an NBA basketball player from Turkey.
Turkish prosecutors say the father of Enes Kanter, a New York Knicks player, had been in touch with members of a banned organisation.
Turkey seeks to imprison Mehmet Kanter, a university professor, for 15 years.
NBA star Kanter has criticised the Erdogan government, which imposed a state of emergency after a failed military coup in 2016.
It claimed Mehmet Kanter had contacted 127 suspected members of the Gulenist groups FETO and PDY, 57 of whom used a secret smartphone app, ByLock, to communicate.
Turkey claims the app is used by followers of the exiled religious leader, Fethullah Gulen, - known as Gulenists. Gulen is regarded by his followers as Turkey's second most powerful man.
The Gulenist movement runs schools throughout Turkey and elsewhere.
But in May 2016, the Turkish government formally declared it a terrorist organisation and accuses it of being behind the failed coup.
In a statement released on social media, Kanter defended his father and said he would "keep fighting for human rights, freedom of speech, justice and democracy."
"Playing basketball is what I love to do, I may be equally known [these days] for being a critic of the Turkish government and its president," he said in a video on Twitter.
Kanter cut ties with his family in August 2016, after his father publicly disowned him in the Turkish press over his then support for Mr Erdogan.
Kanter still does not speak with his father, or any other family member, for fear that it may endanger them.
In May 2017, Enes Kanter was prevented from travelling at a Romanian airport, after Turkey cancelled his passport.
In response to the cancellation of his passport, Kanter said President Recep Tayyip Erdogan, was "a bad, bad man", and a "dictator".
Since the failed coup, suspected Gulenist supporters have been purged from jobs in Turkey. Many have been arrested.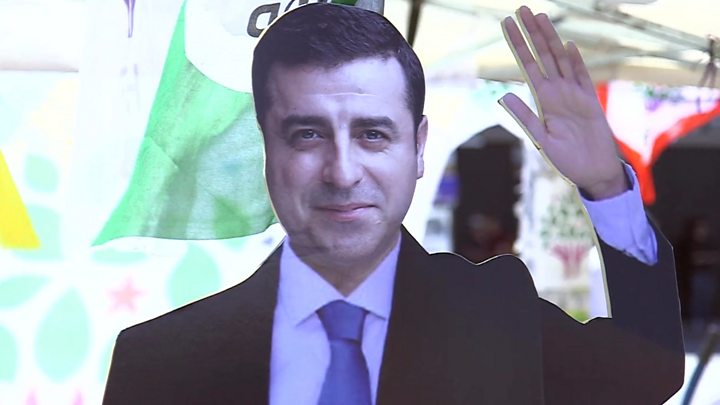 Turkey is holding presidential and parliamentary elections on 24 June.
There will be a second-round run-off for the presidency on 8 July if no candidate wins more than half the vote in the first round.
You may also be interested in: