Ryanair calls for restricted airport alcohol sales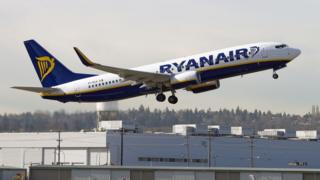 Ryanair has called for more restrictions on alcohol sales at airports.
The airline proposed a two-drink limit for passengers and a ban on alcohol sales in airports before 10:00.
This move comes after a flight from Dublin to Ibiza had to land unexpectedly in Paris on Saturday after three passengers became disruptive.
The three passengers were removed from the plane when it touched down at Paris Beauvais and detained by French police.
"It is incumbent on the airports to introduce these preventative measures to curb excessive drinking and the problems it creates, rather than allowing passengers to drink to excess before their flights," said Ryanair in a statement.
The airline added: "It's completely unfair that airports can profit from the unlimited sale of alcohol to passengers and leave the airlines to deal with the safety consequences."
'Draconian' suggestion
Referring to its own policy on alcohol sales in-flight, Ryanair said very little alcohol was actually sold on board as all of its flights were short haul.
The carrier is Europe's largest low-cost airline, transporting 130m passengers a year, with more than 2,000 flights a day from some 215 airports across Europe and North Africa.
"Our cabin crew are fully trained to deal with customers' alcohol sales and intake," added the airline.
A Dublin airport spokesman said that while the behaviour of some individuals on Saturday's Ryanair flight was "clearly unacceptable", the airline's suggested alcohol restrictions were "draconian".
These would "affect all passengers because of the behaviour of a very, very small minority of airline travellers", said the spokesman.
Last month, Ryanair reported record annual results, with profits after tax rising by 10% to €1.45bn (£1.27bn).