Prince Charles and Camilla end Ireland visit in Kerry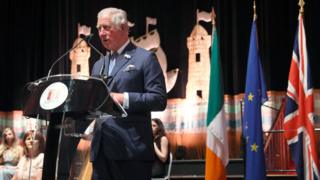 The Prince of Wales and the Duchess of Cornwall have rounded off a four-day Irish trip with visits to Derrynane, Tralee and Killarney in County Kerry.
Camilla felt the sand beneath her feet when she joined Prince Charles on a Kerry beach to highlight the problem of plastic pollution on Friday morning.
The duchess removed her heels when the couple walked onto Derrynane strand.
There, they learned about the work of local schoolchildren collecting waste from the shore.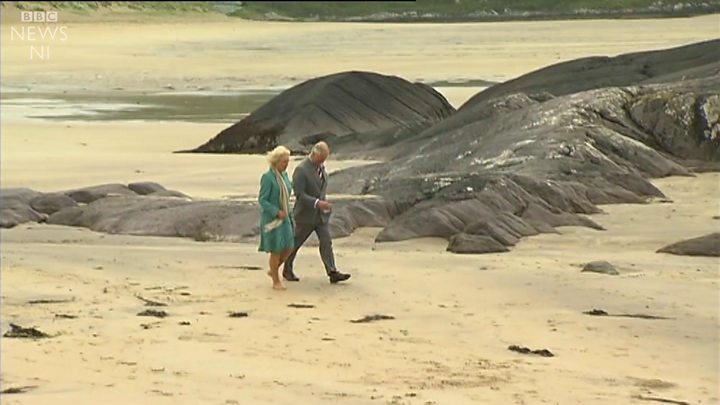 Prince Charles told his wife "you'll get sand in your shoes" when she later slipped them back on.
Before getting into a helicopter, which had brought the royals to the south-west Irish coastline, she could be seen shaking the sand from her footwear.
From there, the couple moved on to Derrynane House, the home of the 19th Century campaigner for Irish rights, Daniel O'Connell.
The visit included a guided tour through the rooms where the man known as "the Liberator" lived and worked.
O'Connell, who was born in the late 18th century, campaigned for Catholic emancipation - including the right to sit as MPs at Westminster.
They are concluding their Irish stay with a visit to Siamsa Tire, Ireland's National Folk Theatre, in Tralee, and a garden party at Killarney House.
Queen Victoria stayed at the original Killarney House during her visit to Ireland in 1861.
The couple spent Thursday in neighbouring Cork, where they had dinner with Deputy Prime Minister Simon Coveney and met the leadership of Sinn Féin.
Prince Charles paid tribute to Anglo-Irish relations.
"Our countries have travelled a troubled road together, but with reconciliation and understanding as our guide, we have found a very important new path to share prosperity and security and together we are determined we must never lose our way again," the prince told guests at the dinner at Crawford Art Gallery.
They began their visit to Cork on Thursday at the city's English Market.
They then attended a civic reception at City Hall, before the prince visited University College Cork.
Prince Charles also spent time at the National Maritime College and the Irish Naval Service base.
On Wednesday, the royal couple visited the Garden of Remembrance in Omagh, County Tyrone, on the second day of their visit to Northern Ireland.
Prince Charles began his trip to Northern Ireland on Tuesday with a visit to Coleraine and north Belfast.