Detective Jerry McCabe awarded freedom of Limerick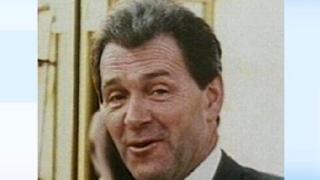 A Garda (Irish police) detective shot dead by the IRA in 1996 is being awarded the freedom of Limerick.
Jerry McCabe was killed and colleague Ben O'Sullivan was injured during an armed raid on a post office van in Adare, County Limerick.
The decision to honour the two detectives follows a special meeting of Limerick City and County Council on Wednesday.
There was unanimous agreement for the move.
The award is the highest honour that can be bestowed upon an individual by the council.
The men are being honoured "for their bravery in carrying out their duties on behalf of the people of Limerick and Ireland, and as a token of the high esteem and affection in which they are held by the people of Limerick".
The ceremony will take place at the council's headquarters on 28 June.
Four Provisional IRA members were convicted of killing Mr McCabe.
All have since been released from prison.