Dublin-Cherbourg bookings cancelled over new ship delay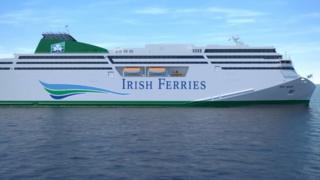 About 6,000 summer ferry bookings between Ireland and France have been cancelled.
Irish Ferries made the announcement on Tuesday blaming a delay in the delivery of its new ship the WB Yeats.
It was due to begin sailings between Dublin and Cherbourg on 30 July.
Customers are being offered alternative travel options, including on the company's Oscar Wilde ferry or by sailing to the UK and then on to France.
Irish Ferries tried to charter in a suitable replacement ship but failed to find one.
In a statement, Irish Continental Group Plc (ICG), the owners of Irish Ferries, said it "no option but to cancel all the planned sailings to France for WB Yeats this Summer".
German shipbuilder, Flensburger Schiffbau-Gesellschaft & Co.KG (FSG) said work on the new ship would "continue for a few weeks".
Second delay
It is not the first time the delivery of the ship has been delayed.
Irish Ferries was previously forced to cancel July sailings for the ship in April.
About 2,500 bookings were impacted, but most passengers switched to Irish Ferries' other cruise ferry, the Oscar Wilde.
FSG said the delay was due to late delivery of "interior components for public areas and on the electrical system installation in the hull and deckhouse".
"All the key functions of our shipyard and our key suppliers are on the ship, and meet daily to ensure direct and efficient communication," the company's chief executive Rüdiger Fuchs said.
"To overcome delays in the delivery of interior components intended for the public areas of the ferry, FSG has made additional funds available to pay second level suppliers directly."
The ship is now likely to commence sailing with Irish Ferries on Dublin / Holyhead in September.
Irish Ferries said if alternative travel plans do not suit affected customers they will be entitled to a "full and immediate" refund.