Pope Francis to visit 'very different' Ireland - Martin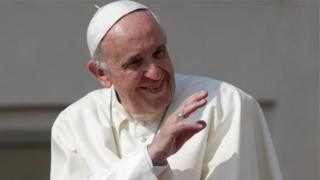 Pope Francis will visit a "very different" Ireland to that of the past when he visits in August, the archbishop of Dublin has said.
Archbishop Diarmuid Martin said the Pope's visit comes "as the Church in Ireland struggles to find a new place in Irish society and culture".
He was speaking as the World Meeting of Families' itinerary was published.
The Pope's visit comes in the wake of the country voting to overturn its constitutional ban on abortion.
The Catholic Church maintains a strongly anti-abortion stance.
Highlights of Pope Francis' visit on 25-26 August include events at Croke Park and Phoenix Park in Dublin.
Pope Francis will also be flown to Knock, County Mayo, for a visit to the Chapel of Knock Shrine, where Catholics believe an apparition of the Blessed Virgin Mary appeared in 1879.
There are no plans for him to cross the border into Northern Ireland, which Archbishop Eamon Martin of Armagh said would disappointment many people.
But Archbishop Eamon Martin, the most senior Catholic cleric on the island of Ireland, said thousands of Catholics from Northern Ireland were expected to cross the border to attend the papal events in Knock and Phoenix Park.
30,000 registrations
Pope Francis will be welcomed by President Michael D Higgins at Áras an Uachtaráin when he arrives in Dublin on 25 August.
He will also visit Dublin Castle and the Pro-Cathedral, before a private visit to the Capuchin Day Centre for Homeless Families.
It is the first papal visit to Ireland since 1979, when about 1.25m people - a third of the country's population - turned out to see Pope John Paul II in Phoenix Park.
Hundreds of thousands more prayed with him in Dundalk, Galway, Knock and Limerick.
The visit "comes as the Church in Ireland struggles to find a new place in Irish society and culture - a very different one from the dominant one it held in the past", said Archbishop Martin, the president and host of the World Meeting of Families, at the launch of the Pope's schedule on Monday.
"He shows us we can live in a world where faith seems marginal and yet manage to touch hearts and challenge them to reflect on and discern those fundamental values vital for society."
With evolving views on divorce, same-sex marriage and abortion, analysts suggest Ireland has changed utterly since John Paul II knelt down and kissed the tarmac at Dublin airport in 1979.
Since then, the Catholic Church has fallen from grace following sex scandals, sordid revelations of clerical abuse and reports on how some within the Church hierarchy covered up such stories and failed to report priests who were child abusers to the authorities.
Mass attendance down
More recently, the treatment meted out to women in mother-and-baby homes run by nuns for unmarried pregnant women has been in the spotlight.
The story of the Magdalene laundries - Catholic-run workhouses where 10,000 women and girls were forced to do unpaid, manual labour between 1922 and 1996 - prompted a state apology by Irish President Michael D Higgins.
Papal visit to Ireland: Itinerary highlights
Saturday 25 August
08:15 - Departure by plane from Rome for Dublin
10:30 - Arrival at Dublin Airport for official welcome
10:45 - Transfer to Áras an Uachtaráin (Irish president's residence)
11:15 - Welcome ceremony with President Michael D. Higgins
12:10 - Arrival at Dublin Castle for meeting with authorities, civil society and diplomatic corps
15:30 - Visit to St Mary's Pro-Cathedral
16:30 - Private visit to the Capuchin Day Centre, a centre for homeless people
19:45 - Preside at the Festival of Families at Croke Park stadium
Sunday, 26 August
08:40 - Departure by plane for Knock
09:45 - Arrival at Knock Shrine for visit to the Apparition Chapel and recitation of the Angelus
11:15 - Departure by plane for Dublin
12:30 - Lunch with the Papal Delegation
15:00 - Closing Papal Mass of the World Meeting of Families in Phoenix Park followed by a meeting with the Irish bishops
18:30 - Farewell ceremony at Dublin Airport
18:45 - Departure by plane for Rome
23:00 - Arrival in Rome
There have also been allegations of forced adoptions, in some cases in exchange for money from rich Catholic Irish-Americans.
While 2016 census figures put the number of self-described Catholics at 3.73m - about 78% of the population - the number of Mass-going Catholics has been dropping.
Weekly Mass attendance fell from 63% in 2002 to 48% in 2010, according to the Church's most recent available statistics, with less than a quarter of 26-to-34-year-olds attending Mass weekly.
Archbishop Martin said recently that in some parishes, only 2% of people went to Mass.
The World Meeting of Families is an international event held every three years, aiming to celebrate the central importance to the Church of marriage and the family.
30,000 people have registered for the Pastoral Congress being held before the Pope's visit, a fifth of whom are 18 or younger
Some 11,000 of those registered to attend are coming from overseas, with 103 countries represented
The event will be paid for by fundraising and four national church collections, with officials saying 5m euro (£4.4m) has already been raised in collections.
The Irish state will pay for security and other logistical costs during the visit, which Irish broadcaster RTÉ suggested would cost 20m euro (£17.6m) in total.