Brexit Backstop 'cannot be time limited' - Varadkar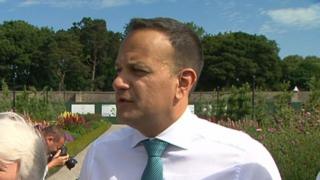 Leo Varadkar has said that a Brexit backstop agreement cannot be "time limited by date."
The taoiseach (Irish prime minister) was speaking ahead of his visit to Northern Ireland on Friday.
The UK's proposed "backstop" plan for trade with the EU after Brexit was published after an "expected" end date - of 2021 - was included in it.
It would see the UK match EU trade tariffs temporarily in order to avoid a hard Irish border post-Brexit.
The proposal followed meetings between Prime Minister Theresa May and Brexit Secretary David Davis, who insisted a cut-off date be included.
Brexiteers want to ensure the backstop could not continue indefinitely.
'All weather'
He added: "The principle that's in the existing Irish protocol, the existing backstop which is supported by 27 EU member states including Ireland, is that it applies at least until there's an alternative in place, until there's a new relationship between the EU and UK that prevents a hard border."
"It's not something that can be just time limited by date. It has to be what they say 'all weather'."
"What we need to see at the June summit is meaningful progress. The clock is ticking. The latest we can have the agreement fully agreed is October."
Leo Varadkar will visit the Orange Order headquarters at Schomberg House on Friday and launch the 30th anniversary programme of the west Belfast festival Féile an Phobail.