Brexit: UK 'has two weeks' to submit border plans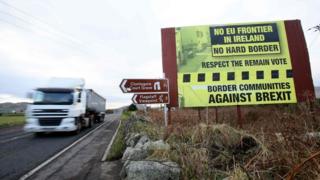 The UK must submit written proposals on how it plans to keep a frictionless Irish border after Brexit in the next two weeks, Ireland's foreign minister has said.
Simon Coveney said if that does not happen the UK will face an uncertain summer of talks.
Both the UK and EU say they are committed to keeping the Irish border open after Brexit.
However, a practical solution has not been agreed.
The EU and Ireland both insist Britain's withdrawal treaty must lock in a backstop arrangement guaranteeing Northern Ireland will abide by EU regulations in case a future trade pact does not remove the need for border controls.
Britain has signed up to this, but has rejected the EU's interpretation of what the backstop means.
"In the next two weeks, we need to see written proposals, it needs to happen two weeks from the summit," Mr Coveney told the Irish Times newspaper, referring to a June summit of EU leaders that is supposed to mark significant progress on the issue.
"If there is no progress on the backstop, we are in for an uncertain summer.
"At this point we need written proposals on the Irish backstop consistent with what was agreed. We await written proposals from the British side."
In February, the EU proposed a backstop which would involve the UK, in respect of Northern Ireland, maintaining full alignment with those rules of the EU's single market and customs union which support north-south cooperation.
Prime Minister Theresa May said she could never agree to that as it would "threaten the constitutional integrity of the UK by creating a customs and regulatory border down the Irish Sea".