'Magnificent' Trinity College Dublin tree collapses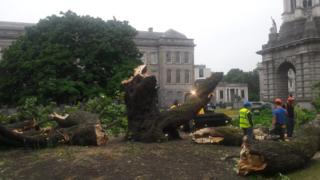 An iconic tree in the grounds of Dublin's Trinity College has succumbed to age and collapsed.
The student newspaper, the University Times, reported that the Oregon maple fell in high winds at 04:00 local time on Saturday morning.
One of those which lines the university's Front Square, it had been brought from the Americas in the 1840s.
The university tweeted that "generations will miss this magnificent tree".
The tree's fall has been lamented on social media with one poster pointing out that literary giants Bram Stoker and Samuel Beckett would have been among those to have passed by the giant during its long life on campus. Oscar Wilde and the barrister who would later defeat him in court, Sir Edward Carson also could have sat in its shade.
More modern politicians who might have appreciated its leafy grandeur include former Irish Presidents Mary Robinson and Mary McAleese and the current Taoiseach Leo Varadkar.
Eleanor O'Mahony is the deputy editor of the University Times, she said that Trinity's campus is famous and the tree's fall is a blow for students, staff and tourists:
"Trinity has tried hard over the past few years to preserve the lives of its trees and it's unfortunate that one of its most iconic trees has come to the end of its life, leaving a gap in the vista of Front Square.
"Students are expressing their sadness online over the loss of the tree, which really was a part of the rich history of Trinity and was the backdrop of many photos over the years," she said.
A spokesperson for Trinity College said the tree which collapsed had been diseased, and that work to preserve it had been ongoing.
You may also be interested in: