Firefighters tackle blaze on Belfast's Black Mountain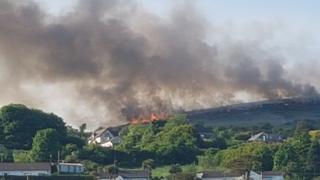 Fire crews carried out "an extremely difficult job" to tackle a deliberate gorse fire in west Belfast on Monday.
A total of 20 firefighters and four appliances were at the scene on Belfast's Black Mountain at 19:00 BST.
Group commander of the Northern Ireland Fire Service (NIFS) Mark Smyth urged those responsible to stop.
Speaking on Good Morning Ulster, Mr Smyth that when crews arrived they found "multiple seats of fire" in an area of about 300sq m of gorse.
'Extremely difficult'
Mr Smyth, who was wildfire lead officer for the incident, said that in large incidents their concerns are whether or not there is a risk to life or property.
"Fortunately, that wasn't the case last night," he added.
"For our crews, getting to these fires, which are usually in remote areas, it can be quite difficult to deal with.
"It's an extremely difficult job. You're dealing with heights of up to 8ft of gorse and the wind is fuelling it."
Fire safety
"At this time of the year, with the weather conditions the way they are, it's very dry, there are high temperatures and the vegetation is waiting to go on fire."
He also warned of the dangers of lighting BBQs and cigarettes and stressed that deliberate fires take staff away from "ordinary" duties.