Cameron Reilly: Hundreds at vigil for murdered teenager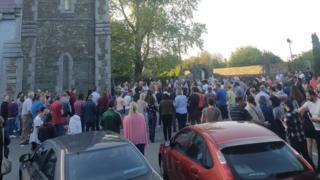 Hundreds of mourners have attended a candle-lit vigil in County Louth for a murdered teenager.
Cameron Reilly, 18, was found dead in a field at Rivervale, Dunleer, at about 08:00 local time on Saturday.
Gardaí (Irish police) said he died in violent circumstances but they have not released details of his post-mortem exam results for "operational reasons".
He was last seen on Ardee Road, Dunleer, shortly after midnight on Saturday.
Irish broadcaster RTÉ, said the church in Dunleer was "packed to capacity" for the vigil on Monday evening, while hundreds more stood outside in the grounds, holding candles.
Mr Reilly was a student at Dundalk Institute of Technology (DkIT) where he was studying hospitality.
DkIT president, Dr Michael Mulvey, said the institution was "shocked and deeply saddened" by the murder.
"Cameron was a popular and dedicated student and the tragic nature of his death has touched many, in particular his classmates and lecturers with the Department of Hospitality Studies," his statement said.
Dr Mulvey expressed sympathy to the teenager's family and friends.
Detectives investigating the murder have appealed to anyone who was with Mr Reilly on Friday night or Saturday morning to contact them.
They are also searching for the teenager's mobile phone which remains missing.