Complaints over anti-abortion sign on Ben Bulben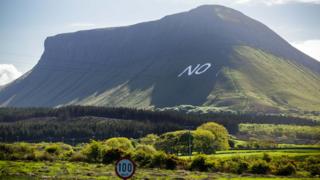 A huge sign on one of Ireland's best known mountains, calling for a 'no' vote in the abortion referendum, has been removed following controversy.
It was erected on Ben Bulben in County Sligo on Thursday, by anti-abortion activists campaigning against the proposed liberalisation of abortion.
Ben Bulben famously features in the poetry of Nobel laureate, WB Yeats.
The plastic letters sparked complaints from environmental groups and ridicule from several social media users.
However, anti-abortion campaigners argued it was a response to frustration over what they view as hostile media coverage of the 'no' campaign.
They described it as a "cry from the mountain to save Ireland's babies".
'Legal complaint'
Irish broadcaster RTÉ has reported the sign was erected by members of the Sligo For Life group, but it had been removed by Friday morning.
It has not yet been confirmed who took the letters down and there have been reports the sign was "vandalised".
On Thursday, the National Parks and Wildlife Service had called on those responsible to remove the sign while An Taisce (the Irish National Trust) said it had submitted a legal complaint to Sligo County Council.
An Taisce said the mountain was "part of a sensitive rural landscape" and there was "a requirement to obtain planning permission" for advertisements.
'160ft high'
The National Parks and Wildlife Service said: "The insinuation of alien materials such as this onto a special area of conservation is insensitive to its conservation status and incompatible with the habitat.
"The owners should procure its immediate removal so that Ben Bulben is returned undamaged to its natural and beloved state."
Ben Bulben is a literary landmark in an area popularly known as Yeats Country, providing a dramatic backdrop to much of the writer's work, including the poem Under Ben Bulben.
The poem ends with the lines which are famously inscribed on the poet's grave: "Cast a cold eye on life, on death, horseman, pass by."
Even a man on a galloping horse could not have failed to spot the Ben Bulben sign.
The letters were about 160ft (49m) high, according to Tommy Banks who was one of those who helped to erect the slogan.
According to The Irish Times, Mr Banks said about 20 people were involved in the "mammoth task" of carrying the plastic cladding up the mountain.
He claimed they had permission from landowners and were helped by "men of all ages, and women as well, down making tea and sandwiches".
His "tea and sandwiches" remark irked some feminists and parodies of the sign were posted on Twitter.
Twitter users incorporated the 'no' slogan into song lyrics, and even replaced it with lines from the TV comedy show, Father Ted.
Pro-choice campaigners, meanwhile, superimposed their own messages on photos of the mountain, calling for a yes vote in the 25 May referendum.
Cartoonist Annie West, who has a view of Ben Bulben from her kitchen window, posted a number of parodies of the slogan on her Twitter account.
She told BBC News NI she had no issue with people promoting a political message but added she was annoyed that they had "defaced my favourite mountain".
Ms West said not only was it a renowned beauty spot, it was also a special area of conservation.
She said she felt the "only way to respond was a bit of humour".
The cartoonist took a photo of the sign being removed on Friday morning and said she could no longer see any remnants of the plastic from her kitchen window.