Ireland abortion poll: Campaign enters its final week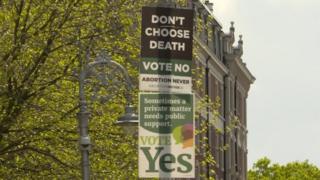 Irish legend has it that Maebh, a fearsome warrior queen, protected her province of Connacht in the west of Ireland from her enemies.
Some say that in more recent times County Roscommon - beautiful, rural and relatively depopulated - has been defending itself as a bastion of conservatism against a growing tide of liberalism.
It was the only constituency to reject same-sex marriage, albeit it narrowly, in the 2015 referendum.
So, those campaigning for a yes vote in the town of Boyle in the forthcoming referendum know they have their work cut out.
The yes side want voters to repeal the 8th amendment to the Irish constitution, which dates from 1983, that gives equal rights to life to the mother and to the unborn.
They say the Republic of Ireland already has abortion with nine women leaving every day for British pregnancy terminations and four every day importing pills, via the internet, that induce abortion, while risking a 14-year jail term.
Niamh O'Connor from Together For Yes in County Roscommon, speaking to BBC's The View programme, said: "We have abortion in this country; we have illegal abortion in this country and we have women going abroad. That is health care; they are seeking medical healthcare. It's making refugees of Irish women going elsewhere for help."
Still, in the west in nearby Sligo town, both sides' posters make their arguments: trusting and caring for women with crisis pregnancies on the one hand; protecting the unborn pleading not to be repealed on the other.
The Irish government has said that if there is a yes vote it intends to introduce legislation; the most controversial aspect of which is, for many, unrestricted access to abortion for the first 12 weeks of a pregnancy.
For no campaigners like Síle Quinlan, from Love Both, who want to save the Eighth amendment the referendum is a human rights issue - protecting the unborn's right to life.
"Essentially what we're talking about here is removing the most fundamental right to life for all", she said, and "handing a blank cheque over to our politicians to legislate how they see fit for abortion. And more than likely if we vote Yes on May 25th we, the Irish people, will never again be asked for our view on the issue."
'Scare tactics'
The constituency of Dún Laoghaire, just south of Dublin on the east coast, prides itself on being historically the most liberal part of the republic of Ireland.
It was this and other port towns that thousands of Irish women, before the advent of cheap flights, took to the boat for British abortions.
As you might expect there is a strong yes campaign here with activists accusing the no side of using "scare tactics" about what the government is proposing.
Campaigners like Melisa Halpin from Together For Yes argue that any future government legislation will be hard fought.
She said: "We're voting to take the Eighth amendment out of the constitution and only then is legislation even possible.
"Only then can you even discuss legislation.
"I hope that will move fairly quickly and I hope that we get legislation that allows women to make decisions about their own bodies."
For no campaigners Dún Laoghaire is not exactly a stronghold.
Ireland, they acknowledge, has changed and women in the past weren't exactly treated well with people very conscious of scandals about the care unmarried mothers in mother and baby homes got.
In one case, babies were buried in a septic tank.
But Muireann Lynch from Love Both says that doesn't mean abortion should be normalised.
"I want to live in a life-affirming society," she adds, "I'm not blind to the realities of pregnancy. I've been through pregnancy. I'm not blind to the realities of what we did to women in the past and continue to do to women today but I don't want to move to a situation where for every four babies that are born, one baby is aborted."
Opinion polls continue to show that the yes side is ahead but with a narrowing lead.
Both sides expect a close result with the floating undecided voters holding the key.
At issue: what happens when the reality of Irish abortion crashes against cherished fundamental views about the sanctity of life?
Voters will get their say on Friday 25 May.