Irish abortion referendum: Religious leaders' views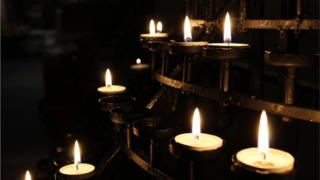 When the people of Ireland go to the polls next week, it will be the sixth time the nation has voted on abortion.
But this is an Ireland far removed from that first vote in 1983, especially as far as religion is concerned.
Patsy McGarry, religious affairs correspondent at The Irish Times said the churches' influence this time is considerably diminished.
He said Ireland has become a more secular country and that its young people are much more aware of the outside world.
"We have much more experience of the outside world and probably have greater experience of life than was the case in 1983," he said.
If the proposal to drop the Eighth Amendment from the constitution gets a yes vote, the government plans to bring in legislation to allow abortion without restriction up to 12 weeks' gestation.
"In 1983, all the Protestant churches said the constitution is no place to deal with this issue," said Mr McGarry.
"This time around, they are more nuanced because of the 12-week matter, which they find ethically unacceptable to them."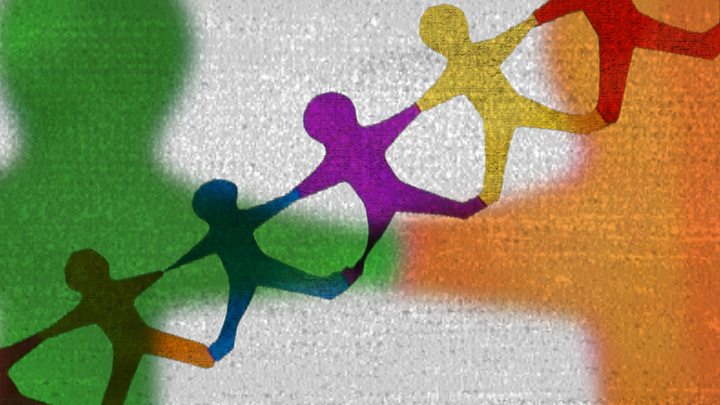 Catholicism is still the biggest religion in Ireland, despite falling mass attendances.
Some of the country's 25 Catholic bishops have written pastoral letters on the referendum, but the Association of Catholic Priests has said letting anti-abortion campaigners speak during masses is "inappropriate and insensitive".
It said: "As leadership of an organisation made up of men who are unmarried and without children of our own, we are not best placed to be dogmatic on this issue."
That has left lay people like Emer O'Connor, from the group Meath for Life, to convey the anti-abortion message.
"It is incredible that we have the right to life enshrined in the constitution, there are lots of countries across the planet that don't," she said.
"But our state acknowledges that right, doesn't give it to us, but acknowledges it, because as human beings we already have that right, it's part of natural law and we should embrace it and defend it.
"So coming back to the Catholic Church's stance on it, they obviously share the whole human rights aspect to this debate.
"If we don't have the right to life, we have nothing."
'Moral guidance'
The Presbyterian Church has also written to its congregations.
"In our tradition of course, people will vote according to their conscience," said Dr Trevor Morrow, a former Moderator of the Presbyterian Church.
The General Council of the Presbyterian Church met earlier this year to consider its response to the calling of the referendum.
"At this time, we felt, in order to save as many lives as possible, the Eighth Amendment should be retained.
"That was communicated by letter throughout our church, but that is for moral guidance.
"In reality, people must vote according to their conscience. We do not prescribe to people how they should vote."
Ireland's third biggest religion is now Islam. In 1983, most of the Muslims here had immigrated to the country.
Now, more and more Muslims are Irish-born, and preparing to vote. They too have been getting advice from their leaders.
"The life of the mother is important, or very, very important, the life of the baby is important, or very very important," said Dr Ali Selim, from the Islamic Cultural Centre of Ireland.
"We do not encourage any change in what we are having at the moment, because it respects the baby's life and it respects the mother's life and it gives room, if there is a danger for the mother's life then that pregnancy would be terminated, that is already guaranteed.
"Our Imam, last Friday, talked about the referendum and he illustrated the Islamic view in this regard.
"But he also stressed the fact that it is individual, an individual decision but comes with individual responsibility leading to individual accountability."
'Public debate'
The churches are treading a fine line between the issues and the individual.
"The Methodist Church would never dare to tell members how to vote, we believe in freedom of conscience but we do feel we have a role," said Dr Fergus O'Ferrall.
"Our Council of Social Responsibility in January brought forward a very nuanced statement again asking for the exceptional cases to be met and for investment in women's healthcare, but yes, there are different views as there are in every single organisation.
"Whatever the result, I think we are going to have a substantial public debate around legislation if it's carried.
"If it's not carried, the issues are not going to go away."