Leo Varadkar criticises Down's syndrome anti-abortion posters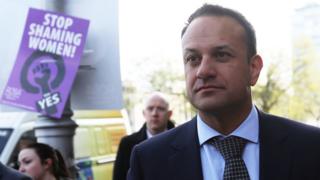 It is "wrong" to use photos of children with Down's syndrome in anti-abortion posters, the taoiseach (Irish prime minister) has said.
Leo Varadkar criticised the posters ahead of the Irish abortion referendum.
The public will have a choice either to vote yes to liberalise abortion or no to keep the state's near-total ban.
Anti-abortion campaigners replied it was "deeply wrong" that in states where terminations are legal, many Down's syndrome babies are aborted.
According to Irish broadcaster RTÉ, Mr Varadkar said: "I think it's wrong [to use the photos] because we have made it very clear in the proposed legislation that disability will not be grounds to end a pregnancy.
"I think it's one of a number of attempts by the No campaign to muddy the waters and create confusion."
The poll on 25 May will ask voters whether or not they want to repeal the eighth amendment of the Irish constitution.
The clause, introduced by a previous referendum in 1983, places the right to life of an unborn child on a par with that of a mother.
It means the abortion is illegal in the vast majority of cases, including pregnancies that are a result of rape, incest, and when the unborn child has a condition that is likely to result in death in the womb or shortly after birth.
The Save the 8th campaign group, which wants to retain constitutional protection for unborn babies, has used images of a Down's syndrome child prominently in its posters.
The posters highlight statistics that say 90% of Down's syndrome pregnancies end in abortion in Britain.
'Deeply Wrong'
The campaign's communications director, John McGuirk, told BBC News NI that it was "deeply wrong" that many Down's syndrome children simply "don't get born" in countries where terminations are legal.
Responding to Mr Varadkar's remarks, he added that anti-abortion campaigners were "much more disgusted" by the number of abortions abroad, rather than anything else in the debate.
He also challenged the taoiseach's claim that disability "will not be grounds to end a pregnancy".
The Republic of Ireland has some of the most restrictive abortion laws in Europe but a number of high-profile and emotive cases have led to calls for liberalisation.
Last year, a Citizens' Assembly and a cross-party parliamentary committee both recommended removing the ban.
The committee recommended that abortions should be allowed without restriction up to 12 weeks into a pregnancy.