Names of County Offaly plane crash victims released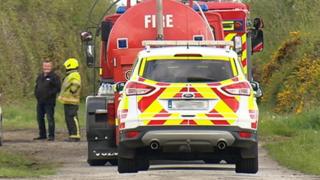 The two people killed in a light aircraft crash in County Offaly on Sunday were pilot Neil Bowditch and seven-year-old Kacper Kacprzak.
Kacper was the son of a Polish national living in Dublin.
His father was one of 16 parachutists who jumped from the plane earlier during a scheduled jump.
Mr Bowditch was in his 40s and believed to be from Staffordshire in England. His relatives were travelling to the Republic of Ireland on Tuesday.
'Beautiful boy'
A GoFundMe page has been started to support the families of the two crash victims.
In a tribute on the page, Allaiouti Hassan, a member of the Irish Parachute Club said: "I myself have a son the same age as Kacper who loves planes.
"Having met Kacper at the club I know he was such a beautiful boy who would touch anyone's heart. Please everyone let's support their families at this tragic time."
The plane took off from Clonbullogue Airfield at 14:45 BST on Sunday.
All 16 parachutists jumped from the plane, but it crashed in bogland shortly afterwards.
On Monday, parts of the Cessna aircraft were moved to a warehouse to allow for a forensic examination.
Officials from the Ireland's Air Accident Investigation Unit are continuing to examine the crash scene.