Six World Cup pitches installed by Irish company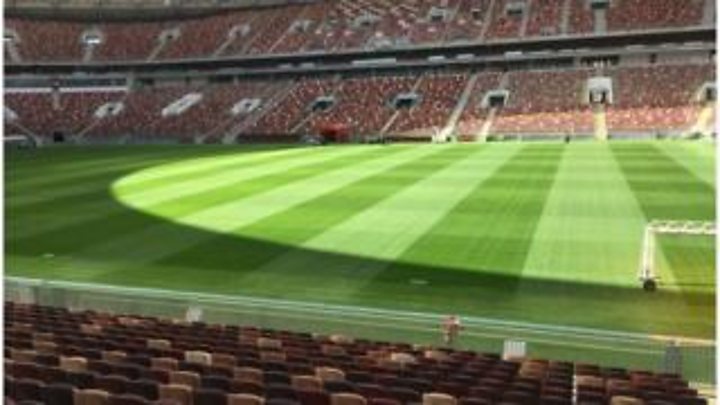 The winning goal in this year's World Cup final in Moscow will be scored on a pitch designed and made by an Irish company.
SIS Pitches netted a contract to install six of the 12 pitches for the World Cup finals in Russia, which get under way in June.
The company specialises in synthetic and natural sports surfacing.
This year will be the first time that a World Cup final has been played on anything but all-natural grass.
The pitch at the Luzhniki Stadium in Moscow, which will host the opening ceremony, the opening game, the semi-final and the World Cup final itself, is one of those installed by SIS.
Pitch perfect
George Mullan, chief executive of SIS Pitches, said it was "an honour" to put its reinforced natural turf system, SISGrass, on six of the World Cup venues.
"SISGrass was only launched in 2015 and already it has been installed at a number of world-class stadiums and now the 2018 World Cup Final will be played on it," he said.
Some 30 of the 32 teams will play on SISGrass during the group stage matches, with Serbia and Demark playing all three of their first round games on SISGrass surfaces.
Sweden and Egypt are the only two teams who could progress to the knockout stages without playing on the company's pitches.
Mr Mullan, who founded SIS Pitches in 2001, set up an office in Russia five years ago. The Russian office now employs 56.
The company has previously put in new stadium pitches for Russian football clubs Spartak Moscow and Krasnodar.
SISGrass has been installed at St George's Park, the FA's National Football Centre, at Chelsea and Hull City's training centres and at the new Besiktas Stadium in Turkey.
Irish-owned
Mr Mullan, who is from Sligo, primarily worked globally until SIS Pitches opened an Irish base in Sligo in 2017.
It also has offices in the UK, Holland, the Middle East and Angola.
Employing 341 staff worldwide, the company installs sports surfaces for schools, colleges, universities, sports clubs and local authorities in Ireland and around the world.
The World Cup kicks off on June 14.