Two dead in Co Offaly light aircraft crash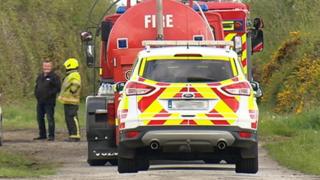 The boy who was killed in a light aircraft crash in the Republic of Ireland was the son of one of the parachutists who jumped from the plane a short time before.
The pilot of the plane was also killed in the crash in County Offaly.
Gardaí (Irish police) said the aircraft, which had 16 parachutists on board, took off from Clonbullogue Airfield at 14:45 BST.
All 16 jumped from the plane, but it crashed in bogland shortly afterwards.
It has been reported that the pilot was from the UK. The bodies were recovered from the wreckage on Sunday night.
The Air Accident Investigation Unit has confirmed it is investigating the circumstances of the crash.
Gardaí have called in the peat digging company Bord na Móna to assist them with large track machinery as they try to recover the single engine Cessna Caravan aircraft.
Speaking on RTÉ radio's Morning Ireland programme, Offaly County Councillor Martin O'Reilly said that the seriousness of the incident is only just setting in.
He said: "There was a sense of disbelief, shock and horror at such an incident in our area, particularly associated with the parachute club. We're only waking up to this shocking news and it's only setting in, how serious it's been."
Mr O'Reilly said the area the plane crashed into gets quite a lot of footfall with walkers and cyclists.
"You'd have a lot of people going out to the club doing fundraisers, parachute jumps for local charities and stuff. And there was never an incident, never has been an incident," he said.