Irish actors call for abortion yes vote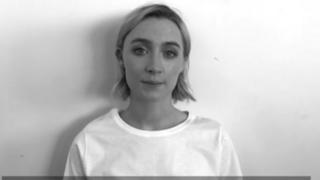 A group of leading Irish actors has come out in favour of a yes vote in the forthcoming referendum on abortion in the Republic of Ireland.
Saoirse Ronan, Jimmy Nesbitt, Cillian Murphy and Ciaran Hinds are among those featuring in a social media video from pro-choice group Together for Yes.
The vote will be held on Friday 25 May.
Voters will decide on whether or not to repeal the Eighth Amendment of the Irish constitution which upholds Ireland's strict abortion laws.
The video is in the form of a letter with each line read by a different actor.
They call for a yes vote "for women's safety, for a just society, for a fairer Ireland," saying it would be a "a vote for compassion".
Ballymena-born actor Liam Neeson appeared in an Amnesty International social media video in 2015 calling for an end to the Eighth Amendment.
He said it was a "cruel ghost of the last century" and has reiterated his views in recent days.
Abortion in the Republic of Ireland
The Republic of Ireland currently has a near total ban on abortion.
Terminations are not permitted in cases of rape or incest, or when there is a foetal abnormality and thousands of women travel abroad for a termination every year.
The Eighth Amendment to the Republic's constitution, introduced in 1983, "acknowledges the right to life of the unborn".
However, there have been significant challenges and changes to the law in recent years.
A campaign to liberalise abortion gathered momentum in 2012, when Indian woman Savita Halappanavar died in a Galway hospital after she was refused an abortion during a miscarriage.
In response to the actors' intervention the Save the 8th campaign, which is campaigning for a no vote and the retention of the Eighth Amendment, said they were failing to take into account the rights of the unborn child.
The group's communications director John McGuirk said: "Abortion does not become more cool, or more compassionate, because Liam Neeson supports it.
"Taking the life of a healthy baby is not suddenly healthcare because Saoirse Ronan appears in a video.
"There were over a dozen actors in that video - not one of them mentioned the rights of the unborn child once.
"The more people learn about what repeal means, the less they support it, and a bunch of Hollywood actors do not change what a yes vote means," he added.