EU wonders if Theresa May has run out of 'Brexit fudge'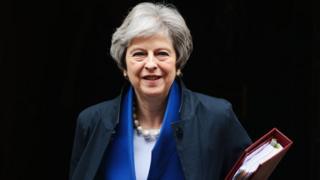 Pollen and blossoms fill the sneezy, windy Brussels air these lovely spring days but pessimism, too, hangs very heavy.
While nothing compared to the screaming, shouting mother of all political rollercoaster rides in the UK when it comes to Brexit, the EU is on a children's version of the above at the very least.
In December, Theresa May was viewed here as being firmly back in control in Downing Street.
Now the words "lame duck prime minister" have returned to Brussels conversations.
The understanding here is that Mrs May is now outnumbered in her government when it comes to Brexit - and outfoxed too.
Brussels was watching closely the result of the so-called Brexit war cabinet meeting this week on what kind of customs relationship the UK might have with the EU after Brexit.
One of the European diplomats I've spoken to said he believed Theresa May underestimated the Brexiteers in her cabinet and party.
He said she had tried to outmanoeuvre them in Brexit negotiations, agreeing to their red lines but then ignoring them at the last minute.
She gave in to Brussels when it came to citizens' rights, the financial settlement and the transition deal. But now that Brexit talks are focusing on UK identity and on what Brexit really means - the Brexiteers don't want to back down.
Only a few weeks ago here in Brussels, there were loud whispers and fond hopes that, although the prime minister had clearly said Brexit would mean the UK coming out of the single market and out of the European customs union, actually her instincts lay elsewhere and some kind of customs union with the EU could well be on the cards - to be dressed up as something else in order to make it palatable to passionate Brexiteers.
But European contacts now tell me they fear "the fudging" has run its course.
Thanks to Brexit negotiations, the English word "fudge" has become part and parcel of EU diplomat-speak.
"We are now coming to binary decisions," one contact told me. "You can't fudge those."
"In or out of the customs union? In or out of the single market? These are legal frameworks. A customs union is defined by the WTO, not we Europeans. We can't change it."
Some in Brussels believe Theresa May's approach to Brexit is borne out of her time in the Home Office. As Home Secretary she could exercise the UK's negotiated right to opt in or out of EU Justice and Home Affairs policies.
But eurocrats insist there can be no such pick 'n' mix options when it comes to the single market or a customs union.
A European diplomat spoke to me wistfully of his wish for the prime minister to "act like a statesman".
She could challenge the arch-Brexiteers; explain to the UK that its best economic interests would be served by remaining in a customs union with the EU, he said, and urge Parliament to back her. "But I fear Theresa May's mission is to keep her party together - not to act in her country's interest," he concluded.
Now, if my contact were being totally honest, he would have to admit that it is very much in the EU's interest to keep the UK as close as possible.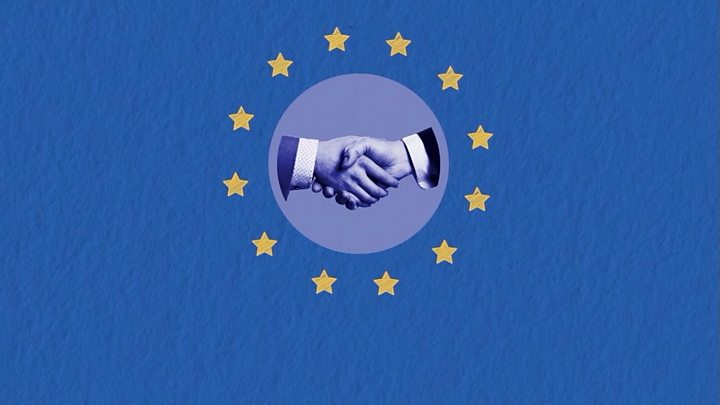 Europeans worry, regardless of assurances by David Davis, that a UK cut loose from Brussels may lower its standards, its prices, and its wages to become super-competitive in a global playing field.
European businesses also fret about the costs of a Brexit no-deal scenario or the possibility of needing to put a huge, expensive bureaucracy in place to keep trading with the UK depending on the type of deal which might eventually be struck.
German media has begun to really change its Brexit tune.
An editorial in Die Welt newspaper recently implored Brussels to drop what it described as "Bätschi politics" - essentially meaning a taunting, I-told-you-so attitude towards Britain as its lawmakers stumble and fumble their way through the Brexit process.
The paper reminded export-proud Germans that, firstly, the UK is a hugely significant trading partner and, secondly, that in a world of big uncertainties - including Putin's Russia, North Korea and an unpredictable Donald Trump in the White House, it would be sensible to keep the UK close.
This is what the UK always hoped for: EU countries beginning to peel off and push for more pragmatism, more leniency in Brexit negotiations.
This may yet come, but we are not there yet.
Where Brussels is right now is: arms metaphorically folded with a frown on its metaphorical face, watching from the sidelines as the UK government, once again, has a conversation with itself as to the details of a post-Brexit future, 22 months on since it held a referendum on EU membership.
The UK government says it is now working on a customs compromise. The reaction from the EU is it would be great if that were possible. But if Theresa May keeps her red lines, yet still wants to avoid a hard border between Northern Ireland and the Irish Republic, it doesn't see how.