Redress scheme over Ireland's cervical smear failures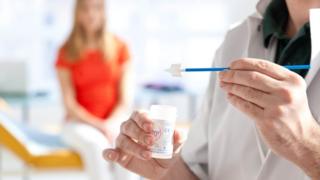 The Irish prime minister Leo Varadkar has told the Irish parliament that there is to be a redress scheme for women affected by failures in the state's cervical cancer screening programme.
It follows the revelation that at least 208 women diagnosed with the cancer should have received earlier intervention.
17 are now dead.
At least 162 were not notified of the outcome of independent audits.
The Irish health minister, Simon Harris, revealed on Tuesday that as many as 1,500 other cervical cancer tests had yet to be independently audited.
Speaking in the Dáil (Irish parliament) on Wednesday, Mr Varadkar said the that Republic of Ireland's Department of Health was going to ask expert British pathologists to review between 2,000 and 3,000 cases from the last 10 years where women were later diagnosed with cancer.
A 43-year-old County Limerick mother was awarded 2.5m Euro (£2.2m) earlier this month in a High Court settlement against a US laboratory over a false negative smear test in 2011.
Vicky Phelan, who has terminal cancer, was only informed of the misread test last year.
Detailed tests for Ireland's CervicalCheck, which has operated for the last 10 years, usually take place every three years.
However, because of a backlog they were outsourced to an American company which normally carries out less detailed tests but does so every year to compensate.
The American company, however, continued to test Irish samples every three years.
The lower detection rate in the US laboratory was brought to the attention of the Republic of Ireland's Health Service Executive (HSE) but appears not to have been acted upon.
The Irish government has apologised to those affected after opposition politicians publicly raised the issue several times.
Several complained that the state had not done enough to ensure an earlier settlement with Ms Phelan.
Others have taken issue with why women were not informed earlier of their false tests results with some GPs and CervicalCheck apparently each believing it was up to the other to do so.
Resignation
The CervicalCheck director Prof Grainne Flannelly has resigned and there is pressure on the head of the HSE Tony O'Brien, who had already announced his intention to step down before the controversy, also to step aside.
The Sinn Féin leader Mary Lou McDonald told the Dáil that Mr O'Brien had presided over "negligence and concealment" and cannot stay in his job.
She described the affair as a "national scandal presided over by the toxic culture in the HSE".
The taoiseach (Irish prime minister), Leo Varadkar, told the Dáil on Tuesday:
that independent health watchdog, the Health Information and Quality Authority (HIQA), will hold a statutory enquiry into the affair
that women will be offered free smear tests
that the Republic of Ireland will move towards a more accurate (Human papilloma virus) HPV test for cervical cancer
and that in future it will be mandatory to disclose to patients their health details.
But several opposition politicians have said they want a different type of enquiry.
Government and opposition representatives are to meet to decide what type of independent statutory investigation to have.
Over 8,000 women have contacted a helpline for concerned women.