Irish border forklift firm Combilift creating 200 jobs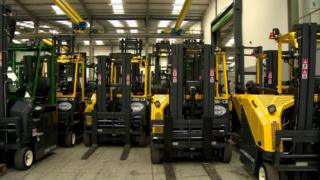 The Monaghan county-based machinery manufacturer Combilift is to create 200 jobs over the next three years at its new factory.
The company, which employs 550 people, draws about 10% of its workforce from Northern Ireland.
The new factory will allow the company to double its output over the next five years.
Combilift makes forklifts and other materials-handling equipment used by construction and logistics companies.
Its managing director Martin McVicar said a major challenge for the company is the uncertainty of Brexit.
He sources components and materials from Northern Ireland and Great Britain and sells into those markets.